Champion jockey Rachael Blackmore has been dubbed the 'Queen of Cheltenham' by family, friends and locals in her homeplace of Killenaule, Co Tipperary.
They said her success has lifted the spirit of the town during the pandemic.
Speaking on RTÉ's Morning Ireland, Rachael's mother, Eimir, described how proud she is of her daughter's "wonderful" achievements.
"I am delighted for her. It is absolutely wonderful. This win today will mean a lot to her.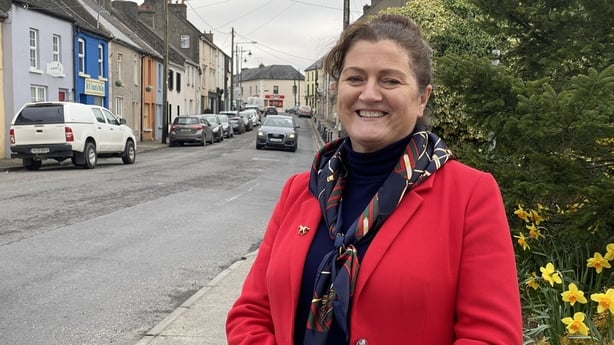 "The phone is melting with text messages. People are saying she is 'the Queen of Cheltenham'. I am delighted people are getting joy out of it. Horse racing needs it," she said.
Rachael Blackmore continued to dominate the Cheltenham Festival yesterday with two more wins bringing her winning toll to five this week.
Those wins include her making history at the start of the week when she became the first female jockey to win the Champion Hurdle on Honeysuckle.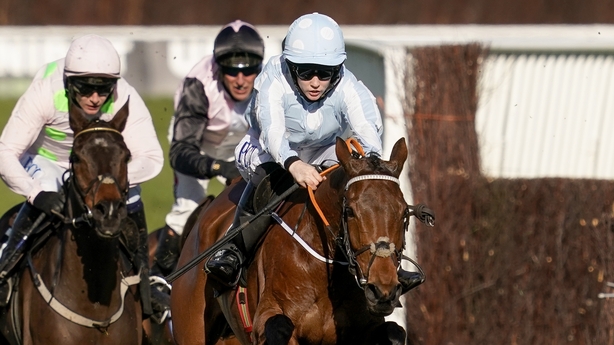 The Tipperary rider competes in the Gold Cup today and, with the Champion Hurdle already in the bag, a Gold Cup triumph would make her the first woman to win the Cheltenham double.
Mary O'Connor decorated the front window of her home on Killenaule's main street to celebrate's Blackmore's, which she said is "brilliant for the town".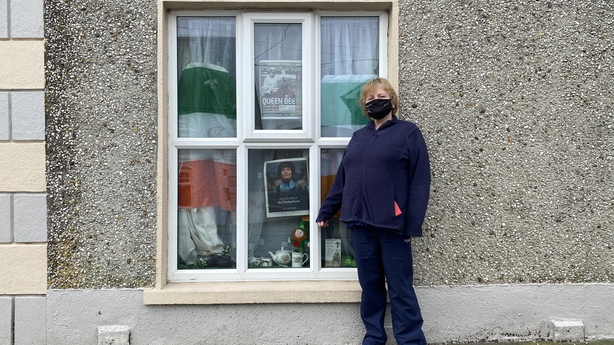 "I'm a big fan of Rachael. I'm so delighted for her. It's brilliant for the town of Killenaule. It's brilliant for her family. During Covid it has lifted everyone's spirits. We follow Rachael the whole time," said Ms O'Connor.
Local man James O'Gorman said Killenaule has horse racing in its DNA and lauded the local jockey for her achievements.
"You're in horse racing country here in Killenaule. Down the road you have Edward O'Grady's stable, you have Slattery's stable and then you go in to Fethard you have Mouse Morris. You have the Coolmore empire then as well. With Rachael it's fantastic what she has achieved in a short amount of time. She can hold her own with any of the jockeys - men or women. She is so strong," he said.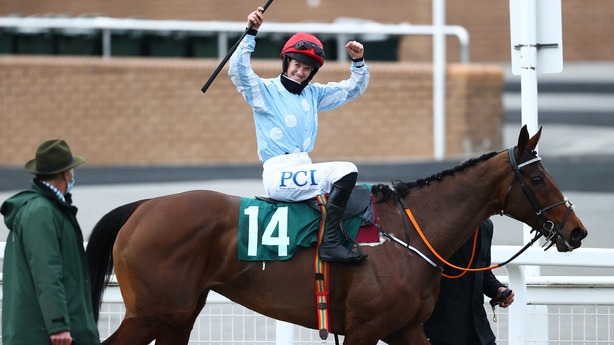 Two time All-Ireland winning Tipperary Hurler Donie O'Connell, who is missing Cheltenham for the first time in 25 years, is disappointed he cannot be at the festival to witness Blackmore's 2021 success.
"This is the first year I have missed it. To miss it this year is heart breaking - especially when the local girl comes up and wins the big prize," he said.
Redmond Carroll - who works with horses locally - said that "Rachael is something else. She has got brains. She has got guts. That's what you need".
Butcher John O'Dwyer said Blackmore is a top jockey because of her toughness.
"Rachael is very special from the point of view that she is her own girl. You need to be tough when you are up there riding these good horses and you are expected to win. Thumbs up to her."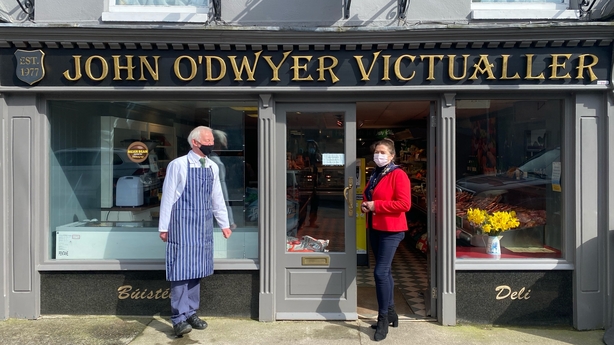 Creamery worker Arthur Kennedy said at the start of her career she was never intimidated by other big name jockeys.
"Everyone said there was something special there. She was never nervous even when she was starting off and being up beside Davy Russell, Ruby Walsh - she was never intimidated by them. She rode her own race and they rode their race," said Mr Kennedy.
Eimir Blackmore said she is proud of her daughter but does not like watching the entirety of her races live.
"Normally at home, I might have the race on. I will be pottering about doing chores around the house and I will probably watch it from three fences to go. I can't watch the whole thing," she said.
Jockey @rachaelblackmor mother @EimirLysaght doesn't enjoy watching the entirety of her daughter's races live. Here she proudly watches yesterday's Ryanair Chase at #CheltenhamFestival after it ended. pic.twitter.com/qF0APPKMpB

— cian mccormack (@cian_mccormack) March 19, 2021
"Any parent would get nervous watching their child doing what she has chosen to do. I just want her home safe," she added.
We need your consent to load this rte-player contentWe use rte-player to manage extra content that can set cookies on your device and collect data about your activity. Please review their details and accept them to load the content.Manage Preferences