The Irish Whale and Dolphin Group has said it has seen a sharp increase in the number of dead whales and dolphins being washed up on the Irish coast.
The first two months of 2021 witnessed the highest number of dead animals since records began, with 93 dead cetaceans reported for January and February.
The IWDG believes the incidental capture of whales and dolphins in fishing nets may be contributing significantly to the increase. Reports of dead cetaceans have increased significantly along the western coastal counties, with particularly high numbers in Co Cork and Co Kerry in recent weeks.
The Dingle peninsula has seen a spate of dead strandings in recent days, including four common dolphins and a pilot whale on one beach. A portion of rope was attached to the pilot whale and its tail had been cut off, which the IWDG said are signs consistent with by-catch. 
"These are big heavy animals and when they are hauled in in nets it's a big challenge to get them overboard again. What normally happens is a rope is tied around the tail and it is lifted by the crane out over the side of the boat. Either the rope or the tail itself is then cut to release the dead whale." said Nick Massett of the IWDG. 
While it is difficult to definitively identify the precise cause of death of individual animals, Mr Massett believes the mackerel and blue whiting fisheries may be contributing factors. 
"Obviously, a certain percentage of animals will die of natural causes, but at this time of year, January to March, the mackerel and blue whiting fisheries are particularly active off our coast. Every year we see it coinciding with a big spike in the number of dead whales and dolphins being washed ashore." 
He added: "A lot of the animals we are seeing washed up are showing signs of net entanglement. We have tails and fins cut off. We are seeing ropes used to haul the animals back in to the sea still attached. We are seeing dolphins with their upper-jaws broken as a result of being caught in nets."
Patrick Murphy of the Irish South and West Fish Producers Organisation accepts that a certain "small percentage" of dead animals are the result of by-catch, but he said the Irish fleet "is not doing the damage here."
He said Irish vessels make up a very small fraction of the blue whiting and mackerel fleet currently operating off Ireland's coast.
"There's a lot more international vessels, huge trawlers, operating around our rich shores. These big trawlers and factory ships are following the fish and so are the cetaceans. Of course, with increased effort, unfortunately there's going to be more whales and dolphins caught accidently," he said.
"We should also realise that these animals may also be dying of natural causes. In every animal population there's natural mortality," he added. 
IWDG strandings officer Stephanie Levesque said the majority of the dead animals have been recorded in the west and southwest of the country, representing the worst season since systematic recording began more than 30 years ago.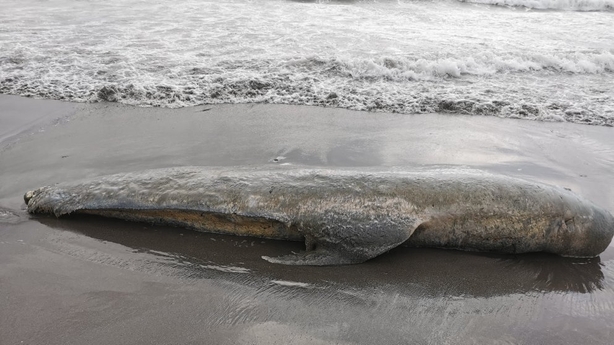 "Since 2011 we have seen a steady increase, but this year we had a dramatic jump from 70 in the first two months of last year to 93 this year. That's the highest ever peak. Up to nine species feature in those figures and the reports have continued to come in March with at least 40 dead animals so far, though some have yet to be verified", she said.
However, fishing industry representatives believe Covid restrictions on travel may be contributing to the increase in reports this year. 
"There's a lot more people out walking the strands and beaches. People are noticing things a lot more, and because of that people are perhaps reporting more of these dead cetaceans. It's possible that this year's increase in dead strandings, is simply down to more intensive reporting," Mr Murphy said.
Simon Berrow of the IWDG said an inter-agency and inter-government approach is now required to tackle the issue of cetacean by-catch. 
"By-catch regulations have been based on poor legislation. We need an effective and international to approach the issue.
"We need to ascertain exactly what's happening out there. We are reliant on individual states to effectively monitor their own fleets. That's not happening. We need solid information on whale and dolphin distribution and also solid information on by-catch data.
"Drift-modelling for example, could help us track the movement of carcasses by using wind and tide data. This would help us identify areas of ocean where the issue is particularly bad and mitigating measures could then focus on those specific zones," Mr Berrow added. 
Members of the public are asked to report any sightings of dead whales and dolphins on the Irish Whale and Dolphin Group website.