New research has shown a significant decrease in the number of children smoking and drinking over a 20-year period to 2018.
But there has been an increase in the number trying to lose weight and more children say they "feel low" at least once a week.
The Health Behaviour in School Aged Children report compares studies from 1998 with follow up surveys in 2018. It was overseen by the Health Promotion Research Centre in NUI Galway.
The data has been gathered from questionnaires completed by more than 15,000 school pupils, aged between ten and 17. This takes in children in fifth class, to students in fifth year of secondary school.
Just over 5% said they were currently smoking, compared to 23% in 1998. Less than a fifth have ever been drunk.
Twenty years ago, a third of respondents reported having been drunk. There has also been a drop in the number of children using cannabis.
The proportion of children being bullied fell in the two decades between each survey, but there was a rise in the proportion of children who were trying to lose weight, standing now at 14%.
Some 70% of children are now brushing their teeth more than once a day.
The numbers wearing a seatbelt in cars has doubled and the proportion of young people doing vigorous exercise four or more times a week has remained stable.
The report found 73% of children live with both their parents, down from 91% in 1998.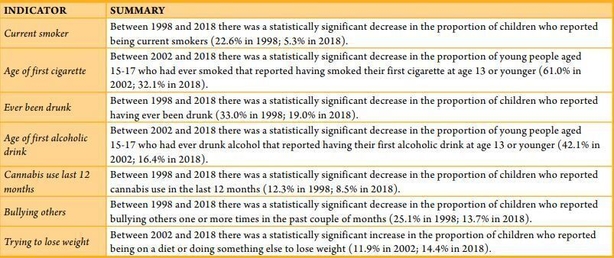 Communication between parents and children seems to have improved since the late 1990s. Over 70% report it being "easy to talk to their father", compared to 47% in 1998.
A total of 84% said it was easy to talk to their mother, an increase of 11% on the comparable survey.
The number of children reporting that their health is excellent increased slightly, but more than a third said they "felt low" every week, or more frequently, an increase from just under a quarter in 1998.
More than a fifth of 15 to 17-year-olds reported that they have had sex.