Farmers are being encouraged to look at alternatives to gorse burning in an effort to protect the habitat of the hen harrier.
New conservation trials are using horses and goats to keep gorse under control, in the hope the approach will lead to better habitats for the threatened bird of prey.
Under the project, trial zones have been fenced off on selected farms and stocked with both goats and horses.
The animals target gorse and brambles and other scrub.
It is hoped that will illustrate the value of traditional methods and lead to effective and sustainable upland management.
The initiative is spearheaded by the Hen Harrier Project which oversees conservation efforts in six Special Protection Areas (SPAs) across nine counties.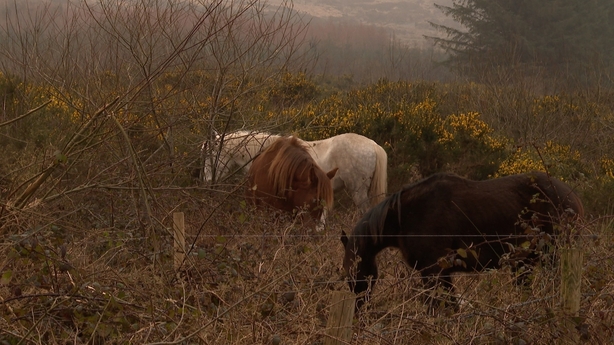 Project manager Fergal Monaghan says it is important to show farmers that there are alternatives to burning gorse.
"Gorse is a real challenge for farmers. I suppose in the past a lot of farmers would have been tempted to grub it out with a digger or to burn it, but that's very often counter-productive and it causes a lot of disturbance to wildlife.
"We're trying to show farmers that there is an alternative. We're not reinventing the wheel, horses have been used to graze furze or whins for centuries. It's a slow process but it's a closer to nature process."
Project officer Eoin McCarthy says the trials offer targeted conservation programme which can deliver sustainable benefits for biodiversity in upland ecosystems.
"We have fenced off acre plots and stocked them with horses and goats. This will allow us to accurately record progress and effectiveness. At the moment the sap content is high in the gorse. The horses like to strip the bark off the stem of the bush. This will eventually lead to the gorse dying off. It's a much more sustainable way to deal with the problem."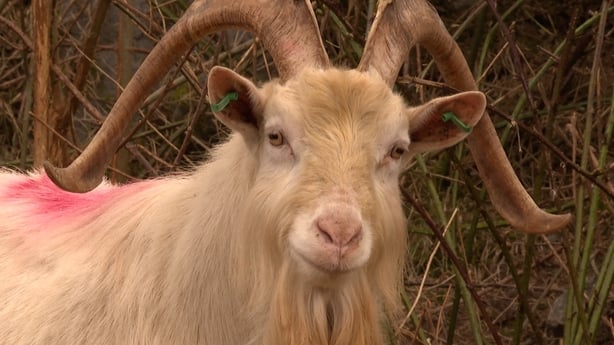 Gearóid Lynch, a suckler and sheep farmer who is trialling the approach on his farm near Baile Bhuirne, Co Cork, says the impact of the horses in particular has surprised him.
"I have five horses and 15 goats working away here. The horses aren't in a fortnight yet and they're already tearing in to it. They've cleared a good few paths through the thick scrub.
"I suppose it was a thing that was always done long ago by the old crowd, drawing in furze for the horses. It seems to be working here so far anyway. They're really tearing in to it," he said.
Gorse fires are lit by farmers in an effort to generate grazing and to ensure land eligibility for agricultural payments.
While the practice is permitted during a defined burning season (1 September-1 March), the damage caused to mountain habitats and wildlife can be devastating.
It is of particular concern to the viability of the hen harrier - a bird of prey under serious threat - which hunts and nests in these uplands.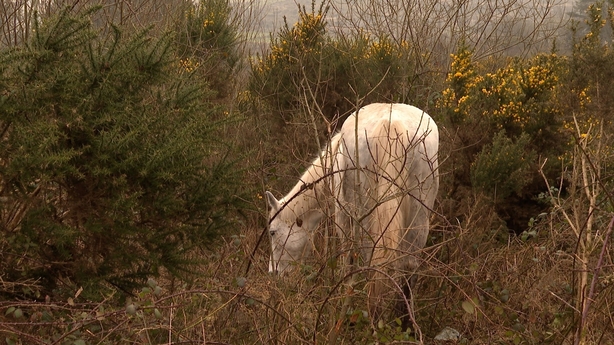 The hen harrier has experienced sharp decline in recent decades, with only an estimated 108-157 in Ireland, according to a National Parks and Wildlife Service survey.
The five-year Hen Harrier Programme is worth €25 million, is funded by the Department of Agriculture, and is the largest species-specific project of its kind in Europe.
Under the scheme farmers undertake measures to enhance biodiversity in their upland holdings and to prevent interference with the hen harrier.
Over 1,600 farmers are now participating in the scheme in nine counties.
Last year 61 breeding pairs were recorded in the six SPAs.
The Mullaghanish/Musheramore SPA in Co Cork where the hen harrier has been almost wiped out showed signs of recovery last year, with nesting hen harriers growing from two to five pairs, bringing the number of chicks produced from two to 10.