The Minister for Justice has said she was "appalled" at the unrest in Dublin yesterday and said that the vast majority of people at the gathering were there with the intent to cause disruption and harm "under a banner of frustration" with Level 5 restrictions.
Speaking on RTÉ's This Week programme, Helen McEntee said members of An Garda Síochána were intentionally targeted by the rioters and she commended the "professionalism and calmness" of the gardaí.
The minister warned that "anyone who is thinking of doing this again should know there will be consequences" as garda investigations continue with the examination of CCTV footage.
She said that "we are all frustrated with Covid-19 ... but we are not taking to the streets attacking members of An Garda Síochána".
The minister added that "every single measure put in place has been put in place to keep people safe".
She asked people to "stick with us" in abiding by the public health restrictions.
Minister McEntee also said there is a need to ensure "that those responsible for spreading this kind of hate are not allowed to do so".
She said gardaí had some success in pre-empting posts on social media and are working to see where misinformation and disinformation comes from.
Minister McEntee that some of those who attended the protest in Dublin yesterday were individuals with previous connections to far-left violent groups or organisations.
Earlier, Garda Commissioner Drew Harris issued a statement clarifying remarks he made in relation to those involved in yesterday's protests in Dublin city centre.
Minister McEntee said the clarification from Commissioner Harris was intended to make this clear, as some of those identified were individuals or factions who may have moved to the extreme right from previous allegiances with other organisations on the left.
Mr Harris had originally said that the majority of those involved belong to a number of factions, including the far-left.
However, this morning he said that "despite initial indications, following further investigations, there is no corroborated evidence of extreme left factions being involved".
In the statement, Mr Harris said the "vast majority of those who took part [yesterday] belong to a number of factions including anti-vaccine, anti-mask and anti-lockdown protestors, far right groups, and those intent on trouble and disorder".
An Garda Síochána said they regard extreme left factions or groups as those who are intent on using violence for political means.
The Garda Commissioner's assertion yesterday that those involved in the protests included those from "the far left" led to widespread criticism, particularly from elected members of the Dáil including Paul Murphy and Mick Barry.
Three gardaí were injured and 23 people arrested during the protests against Covid-19 restrictions.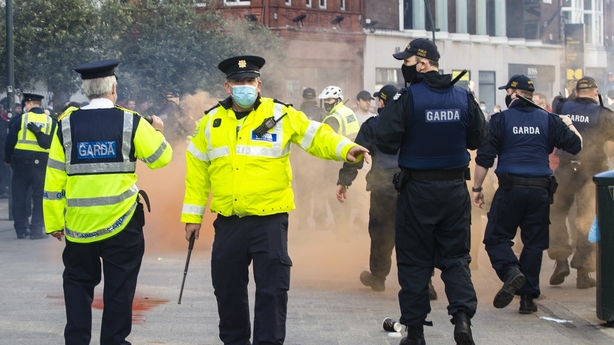 Mr Harris said yesterday that while gardaí had a planned operation in place for a protest, some people arrived "obviously intent on violence".
Thirteen people were brought before Dublin District Court last night, charged in connection with the protests.
The 12 men and one woman were brought before a special sitting of the court and charged with breaches of the Public Order Act.