National Coast Guard management has issued a statement this evening in which it has updated its position in relation to volunteers participating in the viral Jerusalema dance challenge.
While group participation in such challenges is still prohibited, individual volunteers will be permitted to participate in the viral dance routine if they are filmed individually.
"In support of the decision to ensure units prioritise their availability to respond to emergencies throughout this pandemic, the Coast Guard has, on this occasion, requested that units do not engage in these types of activities during this period of the pandemic," it said in a statement.
"The Coast Guard looks forward to a time where Covid-19 restrictions are eased and when units can resume participating in these community type events.
"The Coast Guard has updated its advice to members to inform them that they may participate in the Jerusalema challenge on an individual basis where volunteers within a unit are filmed individually and complying with public health guidelines at all times."
The statement from Coast Guard management also acknowledges the "sacrifices and contribution" which its volunteers have made since the start of the pandemic in delivering maritime search and rescue services and Covid related community support services, while also expressing gratitude for Coast Guard volunteer participation in community and educational events.
Earlier, Irish Coast Guard volunteers were told not to take part in the video dance challenge.
The order was made by Coast Guard management in a letter to all Coast Guard volunteers yesterday evening and followed the posting of a dance challenge video by the Dingle Coast Guard unit in Co Kerry.
The choreographed dance routine, performed to the upbeat South African gospel hit 'Jerusalema', has become a worldwide sensation.
It went viral here after gardaí tweeted a dance video in response to challenge by Swiss police.
We have stepped up to the Swiss police @fedpolCH #JerusalemaChallenge. Gardaí across Ireland answered the call to give the public we serve a lift in these challenging times. #StayTogether #homeStaySafe pic.twitter.com/sbLdkk54hB

— Garda Info (@gardainfo) February 2, 2021
Similar performances have been posted by nursing home staff, aviation companies and people in their own homes.
The dance was also performed by members of the frontline services on RTÉ's Late Late Show last Friday.
We needed this! 😍 After the week that saw @gardainfo dancing across the nation as part of the #JerusalemaChallenge, tonight some of Ireland's frontline heroes took on the challenge and we are here for it! 🕺🙌 pic.twitter.com/Jgr3gyCYws

— The Late Late Show (@RTELateLateShow) February 5, 2021
Dingle Coast Guard posted their own version of the dance, filming it at scenic west Kerry locations, such as Slea Head and the cliffs at Dún Chaoin, which overlook the Blasket Islands.
They said they decided to make the video "as an act of solidarity with other frontline services who have made videos" and to give people who are finding the pandemic difficult "a bit of a much-needed lift".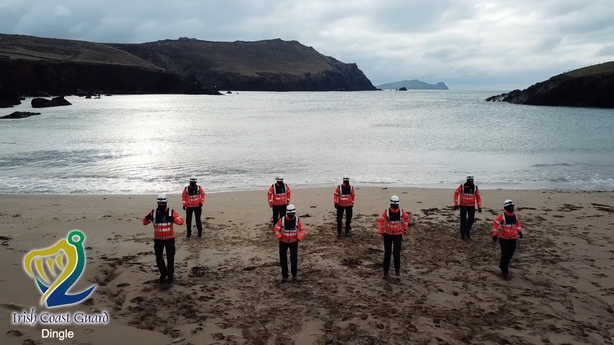 However, in a letter to all volunteers, national Coast Guard management earlier said that following a number of requests from Coast Guard units "it is not permitted for units to produce dance videos for social media, or indeed to assemble for any reason other than for reasons central to a unit's operational objectives.
"In assessing the risk of maintaining a unit's operational availability, severity, likelihood, and detection risk controls are each evaluated. Key to likelihood risk control is the suspension of any activity not considered core to a unit's operational objectives."
We need your consent to load this YouTube contentWe use YouTube to manage extra content that can set cookies on your device and collect data about your activity. Please review their details and accept them to load the content.Manage Preferences
The letter also referred to the potential risk of exposure to Covid-19 during the recording of dance challenge videos.
It said: "Where likelihood of exposure to a hazard is increased, such as through unnecessary gatherings of unit personnel, this increases our likelihood risk rating and weakens our risk mitigation strategy.
"Should the likelihood of exposure to Covid-19 unnecessarily increase, this may adversely affect our ability to retain our operational status and to continue with the limited return to training exercises."
The Dingle Coast Guard unit declined to comment on the letter last night.
Local councillor Breandán Fitzgerald said he was "surprised" and "bemused" by the letter earlier today.
"I can't understand it really. I can't see anything wrong with making these videos. All the Dingle Coast Guard was trying to do was cheer people up. And they did that.
"We've been hit hard by Covid deaths here in Dingle in recent weeks. Our community is feeling down and that video really helped brighten up the day for a lot of people.
"Other frontline services such as the gardaí have made Jerusalema videos and it's really given people a lift in difficult times.
"It's clear from the video that social distancing was maintained by the Coast Guard. I can't see what the issue is," he said.