DUP leader Arlene Foster has said it would be "absolutely reckless" to be distracted by the topic of a border poll at a time when it is about "coming together" to fight against a pandemic.
She was responding to the findings of a poll in The Sunday Times that show a majority of voters in Northern Ireland want a border poll to be staged within the next five years.
Speaking to Sky News she said everyone knows how contentious a border poll would be, describing it as "incredibly divisive."
Ms Foster said it is disappointing that some nationalist parties across the UK during a national crisis are "trying to take this opportunity to talk about constitutional politics".
She said the arguments for a UK are "rational and logical and will win through".
The First Minister said this conversation has been going on for 100 years.
"No one fears having the conversation. We have seen through the pandemic the strength of the United Kingdom," Ms Foster said.
Deputy First Minister Michelle O'Neill has said there is "an unstoppable conversation" under way on the constitutional future of Northern Ireland.
The Sinn Féin leader in Northern Ireland said it is time for the Irish Government "to step up preparations", adding that "we can overcome the barriers of partition and build a new Ireland."
Over 50% of people here support a referendum on unity in the next five years

There is an unstoppable conversation underway on our constitutional future

It is time for the Irish Government to step up preparations

We can overcome the barriers of partition and build a new Ireland

— Michelle O'Neill (@moneillsf) January 23, 2021
Voters across the UK believe Scotland is likely to become independent within the next decade - while more than half of those in Northern Ireland want a referendum on a united Ireland in the next five years, according to the series of polls.
The Sunday Times commissioned the series of surveys across the UK to gauge attitudes towards the Union.
The findings highlight some of the difficulties facing British Prime Minister Boris Johnson as he struggles to keep the country together following its departure from the European Union.
In Scotland, the poll found 49% backed independence compared to 44% against - a margin of 52% to 48% if the undecideds are excluded.
In Northern Ireland, 47% still want to remain in the UK, with 42% in favour of a United Ireland and a significant proportion - 11% - undecided.
However, asked if they supported a referendum on a United Ireland within the next five years, 51% said yes compared to 44% who were against.
In Wales, where support for independence is traditionally weakest, 23% still backed leaving the UK while 31% supported a referendum.
Across all four regions, more voters expected Scotland to be out of the UK within 10 years than thought it would still remain.
In England, the margin was 49% to 19%, in Northern Ireland it was 60% to 28%, in Wales 49% to 23% and in Scotland itself 49% to 30%.
With crucial elections to the Scottish Parliament coming up in May, the poll found the Scottish National Party (SNP) way ahead on 70% - up seven points since the last elections in 2016 - while the Conservatives were down six points on 25%, with Labour down five points on 19%.
Panelbase polled 1,206 adults resident in Scotland between 19 and 22 January.
Lucidtalk polled 2,392 people in Northern Ireland aged 16 and over between 15 and 18 January.
YouGov polled 1,416 English adults between 1 and 20 January, and 1,059 people in Wales aged 16 and over between 18th and 21st January.
Speaking to Sky, Ms Foster referred to the £3bn financial support being given by the British government, with the furlough scheme and also the vaccination rollout "in a way that you don't see in the Republic of Ireland."
"Now we have the vaccination programme working so effectively that gives people hope," she said.
She said her focus is dedicating every working hour on saving lives and that most people want the attention to be on fighting the pandemic.
"We need to get on with dealing the things that matter in their everyday lives and that is what I am focused on and what everybody should be focused on."
She said they will review where they are in terms of the current restrictions on 18 February.
Ms Foster said Northern Ireland's biggest market by far is Great Britain and will continue to be the case, both in terms of who they send their services and goods to and receive them from.
She acknowledged that there are "protocols and difficulties" in these early stages of post Brexit.
"However we are working with our government to make sure we overcome those difficulties."
She said she did not regret not taking former British Prime Minister Theresa May's deal, saying it would have left them in the EU customs union and the single market "forever".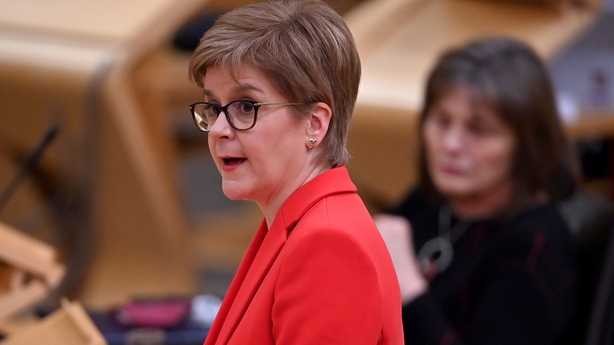 Sturgeon accuses Johnson of fearing democracy
Scotland's First Minister Nicola Sturgeon has accused British Prime Minister Boris Johnson of fearing democracy when it comes to letting the Scottish people express their will on independence.
Scotland voted against independence by 55% to 45% in a 2014 referendum. However a majority of Scots also backed staying in the European Union in the subsequent 2016 Brexit vote, stoking demands by Scottish nationalists for a new independence vote after the UK as a whole voted to leave.
Ms Sturgeon's Scottish National Party, which runs the semi-autonomous Edinburgh executive, laid out plans yesterday for a new referendum if, as expected, it wins Scottish elections in May.
Mr Johnson said earlier this month he thought there should be a gap of about 40 years before any new referendum.
"He's frightened of democracy," Ms Sturgeon said during a BBC television interview this morning.
"If the SNP win the Scottish election in a few months' time on a proposition of giving the people that choice, what democrat could rightly stand in the way of that?" she said.
Mr Johnson says the SNP presented the 2014 referendum as a"once in a generation" event and cannot now insist on another.
The SNP counters that the situation has changed because of the UK's departure from the EU.