While the eyes of the world watched mayhem unfold in Washington last night, Kerryman Donie O'Sullivan became a social media sensation here as he reported live from the scene for CNN.
The Cahersiveen man held his nerve amidst chaotic protests on Capitol Hill to give clear and concise updates.
His reports on CNN drew the admiration of many on social media, with Mr O'Sullivan trending on Twitter in Ireland last night.
At times the reporter appeared to be in danger as riot police moved in on angry protesters within yards of his position.
Speaking at their home in Cahersiveen today, Donie's parents, Noreen and Donal Tommy, said they could hardly watch the television, but that they were immensely proud of their son.
"I was terrified. It was absolutely terrifying. I was afraid for him. I was afraid for everyone around him. But I was very proud of him at the same time," said Noreen O'Sullivan.
"I was hoping he'd hold his head and remain calm, which he has always been all his life and thank God he did." she added.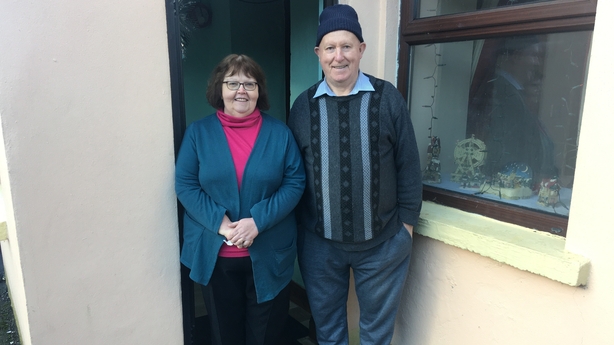 Donie's father said they did not get a "wink of sleep" as they watched their son reporting on the unfolding drama.
"I was very impressed alright. He was always into microphones and talking into them as a young fella growing up. He stuck with it anyway. Fair play to him.
"I wasn't that worried last night. Although I thought at one stage it might get a bit out of hand but he has a fair bit of experience with that Trump crowd.
"He's been covering a lot of Trump's rallies. He's well able to handle them. He says to me that once they hear the Irish accent they seem to be nice to him. It's a bit of a safety net," Donal Tommy added.
Meet Donie's @CNN mom and dad from Cahersiveen.
Lovely warm people and so proud of their son. @donie pic.twitter.com/x5V69u258W

— Seán Mac an tSíthigh (@Buailtin) January 7, 2021
Donie O'Sullivan entered the world of US journalism five years ago when he joined Storyful, before securing his current position with CNN.
He studied History, International Relations and Political Science at UCD, before he achieved a Masters in Political Science and Government at Queens University Belfast.
Máire Ní Shúilleabháin, one of his former teachers in Coláiste na Sceilge in Cahersiveen, said she knew from an early days that Donie had a bright future ahead of him.
"He was a wonderful student. He was very diligent, always asking questions. But he has a lovely way about him. He's a very down-to-earth person, no notions, and that honesty is what has carried Donie to where is today. We're extremely proud of him."
It's Donie's Kingdom now!#donie #kerry #cnn pic.twitter.com/16hsJmJk1b

— Kevin O'Brien (@kevob777) January 7, 2021
Mrs O'Sullivan said the family was stunned by the attention their son is receiving on social media.
"I'm told Twitter exploded last night," she said.
"I was talking to him earlier and he said he is really feeling the love from home. He's really enjoying it."
Donie O'Sullivan will be among the guests on RTE's The Late Late Show tomorrow night.
While the eyes of the world watched mayhem unfold in Washington last night, Kerryman @donie became a social media sensation in Ireland as he reported live from the scene for CNN | https://t.co/goIQuPz2zg pic.twitter.com/VOqa88B0Gq

— RTÉ News (@rtenews) January 7, 2021