A site that once included a nuclear bunker shelter in Limerick is due to be demolished.
The bunker was built in the 1980s in what is now the Opera development site in Limerick city.
Demolition and site clearance work has started on the €200m project, which when completed will include apartments, offices and commercial space on the four-acre site.
The development is funded by the European Investment Bank and is being developed by the Limerick Twenty Thirty company, which was established by Limerick City and County Council.
The 'bunker' was developed under the former Limerick Corporation offices on Patrick Street at a time of heightened concern about a nuclear incident.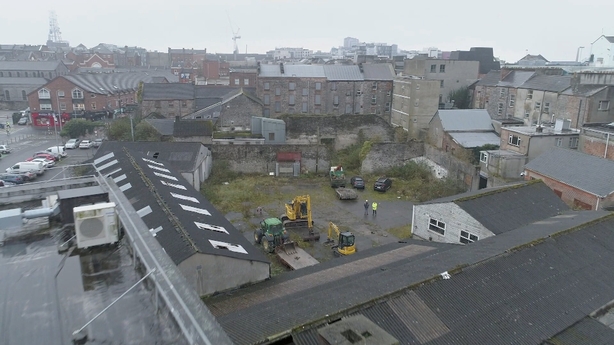 When completed in 1985, a group of volunteers who remained in the bunker for a period of seven days and nights tested the facility and took mock radioactive readings as part of the exercise.
They also provided an account on the conditions and the effects of being isolated over a period of time.
One of the volunteers was now retired environment officer Brian Kelly. He said it was a difficult exercise at the time for the seven volunteers.
The bunker could accommodate up to 30 people.
Mr Kelly said that senior officials from the corporation, gardaí and the Health Board, as it was at the time, could plan assistance for the public or the evacuation of the city in a nuclear emergency from the safety of the facility.
He said that when the volunteers left the bunker after seven days' isolation, walking up O'Connell Street in Limerick seemed a very long walk.
"We had become accustomed to walking the short distances in the bunker," he said.
Dr Úna Ní Bhroméil, lecturer in History at Mary Immaculate College in Limerick and daughter of the late Tony Bromell, who served as mayor of Limerick city from 1982 to 1983, said that the bunker was built at a time of heightened fear about nuclear safety.
"The possibility of a nuclear bomb was a concern but also the fear of a nuclear accident in Britain was leading to increased concerns at the time and the spread of any radioactive material to Ireland," she said.
"That the focus was on the concept of threat, not just from a nuclear strike, but also a nuclear accident as one had happened in Pennsylvania in 1979 and the following year in 1986 the Chernobyl disaster happened."
The site of Limerick's nuclear bunker will now make way for the biggest commercial development in the city and consign the Cold War era bunker to the dust of history.