Minister for Agriculture Charlie McConalogue has published an 'Ag-Climatise' roadmap, which sets targets to reduce fertiliser use, encourages lower emitting cattle breeds and promotes an increase in organic farming and tillage.
The document sets out how the agriculture sector will reduce emissions over the coming decades. 
35% of Ireland's greenhouse gas emissions come from the agriculture sector and 83% of emissions in the agriculture sector come from animals. 
Yet rather than recommending reducing the herd, the roadmap suggests that genotyping the national herd will help the dairy and beef sectors reduce emissions. 
Many environmentalists would suggest a far more radical approach is needed.
But the document concludes: "This roadmap is based on stabilising methane emissions and a significant reduction in fertiliser related nitrous oxide emissions, leading to an absolute reduction in the agricultural greenhouse inventory by 2030.
"Any increase in biogenic methane emissions from continually increasing livestock numbers will put the achievement of this target in doubt."
The Government has published a roadmap on how the agriculture sector will reduce carbon emissions. Animals are responsible for 83% of all agri-emissions. Ireland aims to have a carbon neutral economy by 2050. | Read more: https://t.co/HUOx9HQqjJ pic.twitter.com/P1TLTG1BOX

— RTÉ News (@rtenews) December 9, 2020
The plan recommends a range of measures across almost every area of agriculture to increase more emission friendly practices and reduce those that are damaging. 
It aims to reduce chemical nitrogen use to 325,000 tonnes annually by 2030. 
The entire national herd is to be genotyped by 2030; the plan concludes that will underpin the development of enhanced dairy and beef breeding programmes, which it says will help achieve a reduction in "overall green house gas output at national level". 
Farmers will be encouraged to maximise the use of grazed pasture and this will be combined with changes to feed types and practices for animals. 
The plan also seeks to increase the area of land used for organic farming to 350,000 hectares in the next ten years. 
The roadmap identifies tillage as an area which needs to be expanded as it is lower emitting than other farming and is more profitable.
The plan states that by growing grains and pulses for animal feed, it will further enhance the environmental credentials of the tillage sector.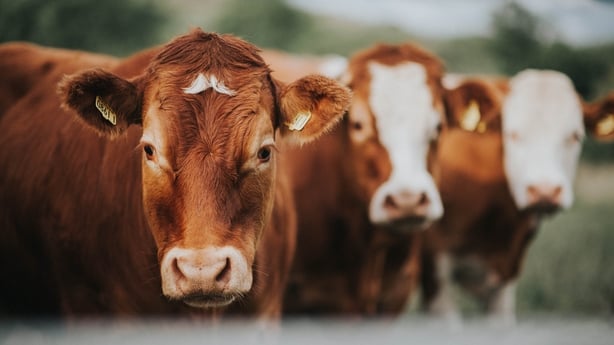 It also sets out a planned expansion of forestry, aiming to increase afforestation to 8,000 hectares per year. The authors said that the expansion of broadleaved and native woodland is also needed. 
An increase in hedgerows on farms, and protecting those that already exist are listed along with a range of other measures to assist with carbon capture and sequestration on farms. 
Minister McConalogue said: "The numbers in the roadmap are predicated on the herd staying reasonably stable in the years ahead, lots of the measures are win win, they will make agriculture more efficient and they will also improve the cost base for farmers". 
He said every sector "is going to have to make a contribution in the years to come in order to meet our climate change objectives and agriculture has a very important role to play.
"The Climate and Air strategy we are launching has 29 different measures, which will demonstrate how agriculture can contribute, the objective is that by 2050 we will have carbon neutral natural agriculture and we will reach a 10-15% reductions on 2019 C02 figures by 2030". 
He said farmers are "up for playing their part in the climate change challenge" and the roadmap is a good platform to build improvement on.
Reacting to the roadmap, Minister of State Pippa Hackett said it was the beginning of action needed to ensure the sustainable development of the agriculture and land-use sector.
The Green Party Senator said: "The roadmap includes some ambitious actions on reducing emissions and puts a focus on alternative land uses, sequestration, and renewable energy.
"Greenhouse gas and ammonia emissions from the sector have been going in the wrong direction. We need a clear pathway to reverse this trend, and this roadmap sets us on that path", she said.
Farmers committed to tackling climate change - IFA
The President of the Irish Farmers Association said farmers are working on all measures, such as improving the quality of grass and increasing the use of protected urea to reduce emissions and will continue to do so.
Speaking on RTÉ's News at One, Tim Cullinane said farmers are committed to reducing emissions and tackling climate change.
He said emissions last year from agriculture were down by 3.9%, which "is positive in itself".
Mr Cullinane said: "There's no one national herd, we've 130,000 farmers in the country and if you look at it, the average herd size is less than 70 animals".
He said he is not in a position to tell his members to reduce their herd, and the IFA wants to work with the roadmap that is in place, but it takes time for those measures to work.
Mr Cullinane said farmers have to look at what is happening in individual herds, and you cannot ask a farmer with less than 70 animals to reduce his herd.
He said more than 50,000 farmers are participating in a green low carbon scheme and many are taking carbon out of the atmosphere already with low emission slurry spreading.
The IFA president said genetic changes in animals has resulted in more solids in the milk.
Methane is a short life cycle gas and this is something that farmers can work on improving, Mr Cullinane added.