The organisation that represents family carers says it believes the State is failing families whose loved ones are in need of residential care by not providing adequate funding for their future care.
Family Carers Ireland said the situation is simply not acceptable. It comes as a mother from Dublin has called for her daughter to be provided with a residential placement.
The HSE said its most up to date figures show more than 1,000 applications for residential placements as of last July.
Blathnaid Nolan is the main carer for her 22-year-old daughter Íde, who has an intellectual disability. Her mother said her behaviour has become more challenging since she left children's services when she was 18, and is now on the emergency list with the HSE.
Ms Nolan said that while Íde can have good days, her bad days are very difficult.
"It's like the tantrum of a 2-year-old in the body of a 22-year-old," she said. "She will scream, she will become incredibly distressed, which is horrible to watch. She will throw things, and then trying to care for her during those times, without a break is just impossible."
Under stress from caring for her daughter, Ms Nolan said she cries going to sleep, she cries getting up in the morning, she cries in the middle of the night. She said this has to end.
Íde's day services have gone from five days to three days because of Covid-19.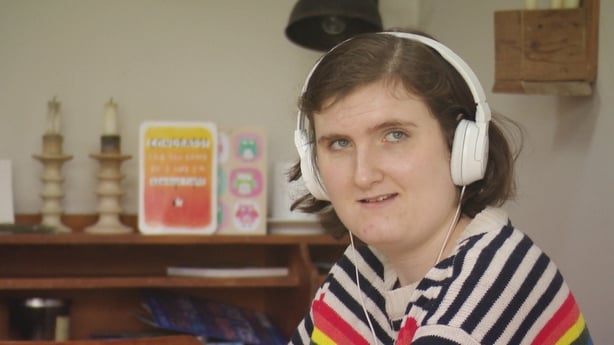 She has six home care hours a week, and has been given six weeks of respite next year.
Her mother said that the last time Íde went for respite for two nights, she came home and screamed for two weeks. She said it just does not work for her.
While her mother said she is grateful for any respite she gets, it is not a solution. Ms Nolan said her daughter needs immediate residential care.
The HSE said it cannot comment on individual cases. It welcomed an extra €100 million for disability services in the budget, and said it anticipates significant funding will be allocated to develop new emergency residential places.
It said as of July, there were 1,033 applications for residential placements. 329 of those had an emergency designation. At the end of October, 81 new emergency places were developed, and the HSE said services are allocated on a greatest need basis.
Family Carers Ireland said that the pandemic has made the situation for family carers far worse.
She said they talk to carers every day who are struggling; For some, day services have gone or respite has been wiped out. She said that their roles have become far more intensive and challenging, particularly where those they are caring for have challenging behaviour.
Catherine Cox of Family Carers Ireland said she really believes that the State has failed families like Blathnaid and Íde, not only in terms of their services when a child gets to the age of 18, but also when there is a family crying out for support and the State is telling them that there is no money for it.