The largest haul of contraband smuggled into a prison - seized at Mountjoy jail in Dublin today - was hidden in bags of sugar and sprinkled with coffee to confuse sniffer dogs.
Drugs, alcohol, phones and SIM cards were among the items concealed in a food delivery truck searched by prison officers from the Operational Support Unit at around 8.30am today.
They found 10,000 tablets, bags of what is believed to be cocaine, suspected cannabis, 30 phones, SIM cards, bottles of whiskey, steroids and an exercise band.
The tablets were individually wrapped with prisoners' names on them and some of the phones were small enough to conceal internally.
Gardaí say the cocaine has an estimated value of €140,000, the tablets are believed to be worth up to €20,000, and the cannabis herb is valued at €5,000.
The discovery was part of an intelligence-led investigation.
One man in his 40s has been arrested and is being questioned at Mountjoy Garda Station.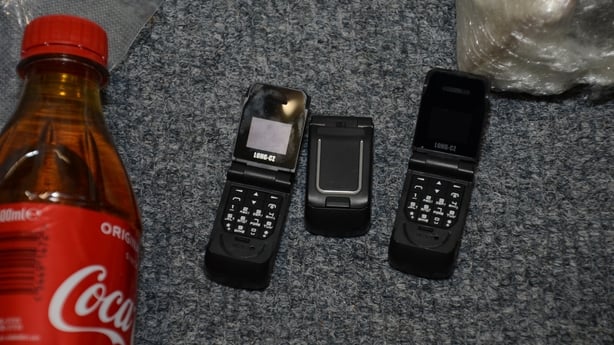 With over 700 inmates, Mountjoy is the country's largest prison housing some of most dangerous offenders, including senior figures in organised crime.
Gardaí believe the sophisticated drugs smuggling operation is linked to Kinahan gang members in the prison.
The drugs were pre-allocated, but with the street value of the haul estimated to be over €150,000, there is a real fear it could lead to violence in the prison as the gang responsible tries to establish how the smuggling network was discovered.
Irish Prison Service Director General Caron McCaffrey said the drugs would have had a devastating impact on the prison population with the potential for loss of life by overdose.
Speaking on RTÉ's Drivetime, she said: "There were 600 boxes, with each being painstakingly taken off the truck and searched, and it was in the middle of the last pallet of items, that it was detected, in two boxes which purported to be sugar but when those boxes are opened, they contained a very significant amount of contraband."
Ms McCaffrey said the drugs could have had resulted in deaths among the prisoner population had they made their way into Mountjoy.
"They certainly result in inter-prisoner violence and it can also result in assaults against our staff, specifically given the content and the volume of what was discovered this morning, it undoubtedly would have resulted in very significant overdoses and potentially deaths within the prison population."
She explained that Covid-19 measures have thwarted the traditional route of contraband.
"Things like visitors to prison, which regrettably are a source of contraband traffic. We're also quarantining everybody who comes into the new system, so that if they have drugs contained on their body when they arrive, they're not in a position to give those drugs right on the landing. Because of that we know the drug tolerance levels within our population are low and that would give rise to even more concerns around the potential for overdose within the prison population."
Ms McCaffrey said there has been an increase in attempts to throw contraband over prison walls since Covid-19 restrictions came into force.
She said the Irish Prison Service has also heavily invested in drone technology to prevent contraband being trafficked into prisons, which she said has "proved to be very successful."
The Prison Officers' Association welcomed the seizure, which it said highlights the dangers drugs pose within the prison.