Taoiseach Micheál Martin has laid a wreath at the annual Remembrance Day ceremony in Enniskillen, Co Fermanagh.
It is the first time a Fianna Fáil Taoiseach has taken part in the event, and the ninth consecutive year the Government has been represented.
Northern Ireland's First Minister and DUP leader Arlene Foster also took part.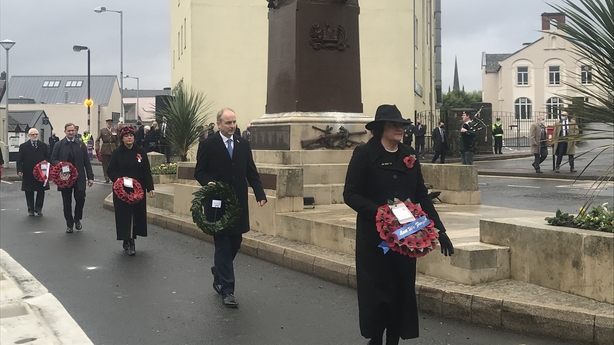 This year's ceremonies are subject to Covid-19 restrictions.
Today marks 33 years since a IRA bomb at the cenotaph killed 11 people and injured more than 70 others.
A 12th victim died in December 2000 after spending 13 years in a coma due to injuries sustained in the attack.
The IRA bomb was planted in a building close to the memorial.
When it detonated, the walls collapsed on top of those who had gathered for Remembrance Day services.
Taoiseach @MichealMartinTD lays wreath in Enniskillen @rtenews pic.twitter.com/dVs4Rm4QRS

— Vincent Kearney (@vincekearney) November 8, 2020
Relatives of some of those killed attended this morning's event.
Stephen Gault, whose father Samuel was murdered, said the smaller numbers in attendance made it more poignant.
"It's hard to believe that on this exact day 33 years ago that my father and other 11 innocent people were brutally murdered at this site," he said.
"It's very poignant. It made it hit home. It was smaller numbers but it doesn't take away from the day."
Mr Gault praised Mr Martin for attending.
"It was great the Taoiseach was able to come and carry on the tradition set a number of years ago," he said.
"I personally think it's greatly appreciated that he's carried on that tradition, particularly as it's a different Taoiseach this year from previous years."
Enda Kenny became the first taoiseach to attend a Remembrance Day service in Northern Ireland when he took part in commemorations at Enniskillen in 2012 and his successor Leo Varadkar carried on the tradition.
Other small-scale Remembrance Day events took place elsewhere in Northern Ireland on Sunday, including at the Cenotaph at Belfast City Hall, where Lord Mayor Frank McCoubrey led the commemorations.
President Michael D Higgins today honoured Ireland's war dead, in a ceremony at St. Patrick's Cathedral, Dublin.

Due to public health restrictions related to the Covid-19 pandemic, the President laid a wreath outside the cathedral. pic.twitter.com/X6p80jq29P

— President of Ireland (@PresidentIRL) November 8, 2020