Dramatic surf conditions in the Atlantic Ocean caused by the remnants of Hurricane Epsilon saw waves of over 18 metres off the Sligo coast.
Elite surfer Conor Maguire, who caught the waves in Mullaghmore, said it was a rare and special experience.
"There are only a handful of days like this one in your whole life pretty much so to experience that today was pretty special," he told RTÉ News.
From Bundoran, in Co Donegal, Conor was the only surfer out on the waves off Mullaghmore today, accompanied by a safety team and Red Bull film crew.
Met Éireann said that data collected by the Irish Marine Data Buoy Observation Network showed that "significant wave heights" of up between ten and 16 metres were recorded during the day, with buoy 6 recording a max height of 21.7 metres.
In 2013, waves reaching more than 15 metres or 50ft were seen off Mullaghmore.
Experienced surfers Barry Mottershead and Dylan Stott were part of Conor's safety team today.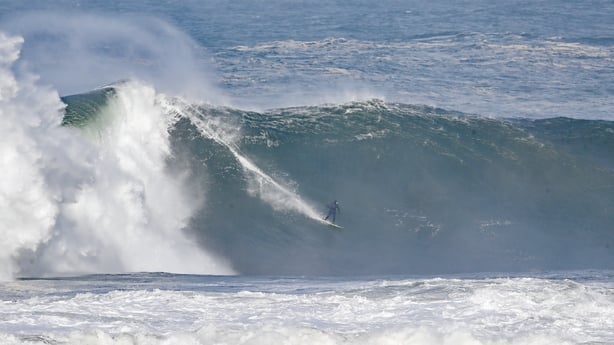 "They've been surfing there for about 15 years and they've never seen anything close to this," Conor said.
"It was pretty special to see it that size, it's pretty rare."
These waves were expected as Met Éireann Meteorologist Gerry Murphy explained.
"There's a very deep depression in the north Atlantic at the moment, which is actually the remnants of Hurricane Epsilon.
"Over the past 24 hours the depression level was down at 955 hPa, which is a very low pressure and this enabled the generation of very high waves well out in the Atlantic, causing a significant sea swell and consequently very high waves moving in close to the Irish coastline."
Thankfully, he said, the risk of flooding on land is said to be low.
Tomorrow, Conor will be out on his board again.
"There are remnants of this swell hanging around tomorrow, so it's still going to be 20-30ft (six-nine metres), which is going to feel small after today," he said.