New laser technology to warn trucks of impeding bridge strikes is being tried out by Iarnród Éireann.
The Over-Height Vehicle Detection (OHVD) system has already been installed at Amiens Street in Dublin's north inner city where the railway bridge has been hit 11 times in five years.
Lasers on poles detect over-height vehicles and when the beam is broken, automatically lights up an advance sign.
The signs are positioned to give time for the truck driver to divert.
The one for Amiens Street will divert the vehicle travelling north on Beresford Place back onto the quays.
Amiens Street bridge, which has a clearance of 4.69m, had a serious strike in 2017, which required structural repairs, while there were further major incidents in 2018 and 2019.
Iarnród Éireann said these incidents disrupt rail services, cause traffic chaos and pose a risk to other road users, as well as requiring costly repairs.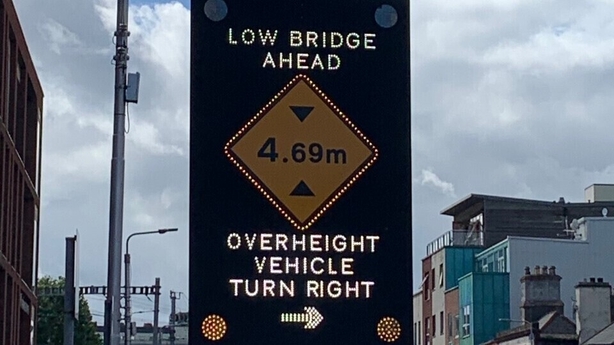 Despite safety campaigns there were 69 incidents last year and 52 so far this year.
If the Amiens Street pilot is successful, the technology will be used at other locations, subject to funding.
There is a separate project for the installation of LED advertising on the bridge itself, which will also light up to warn the truck driver.
Iarnród Éireann CEO Jim Meade said: "It is worth restating legal obligations of HGV drivers when it comes to approaching a bridge under a railway.
"You simply must heed any road signs and advance warning signs that are in place.
"Your vehicle, including any load being carried, must be lower than the height shown on the warning sign."
The rail company has also published a map of bridge heights around the country to help haulage drivers plan their journey.