It was an unusual start to the day for a group of Dublin students in Baldoyle.
Their teachers told them to arrive early at Pobalscoil Neasáin for a ''special treat''.
They had no idea that British rapper Stormzy had recorded a special video message to recognise their efforts in raising awareness around the Black Lives Matter Movement.
As they gathered to watch the video, Stormzy appeared on the screen and the room fell silent.
"Yo, what's going on people? It's Stormzy here sending love to everyone at Pobalscoil Neasáin," the artist said.
"If I pronounce that wrong and you lot are laughing at me please stop,'' he told the students, many of whom were staring at the screen in disbelief.
We need your consent to load this YouTube contentWe use YouTube to manage extra content that can set cookies on your device and collect data about your activity. Please review their details and accept them to load the content.Manage Preferences
"I think it's important that you guys understand how powerful you are" the rapper said in an impassioned speech to mark the launch of his new single 'Superheroes'.
The Leaving Certificate students in Baldoyle were the first in country to see the new animated video.
It paid tribute to actor Chadwick Boseman, who died aged 43 last month. It also shows grime star Dave leading protesters in masks at a Black Lives Matter rally, and a young girl playing football wearing a shirt with Manchester United striker Rashford's name on the back.
The video premiered exclusively in schools across Ireland and the UK.
The North Dublin secondary school was chosen by Stormzy after a march organised by the students was brought to his attention on social media.
17-year-old Rachelle Biayi organised the event in Baldoyle in June. It was at the height of the Black Lives Matter global protests in response to the killing of American George Floyd.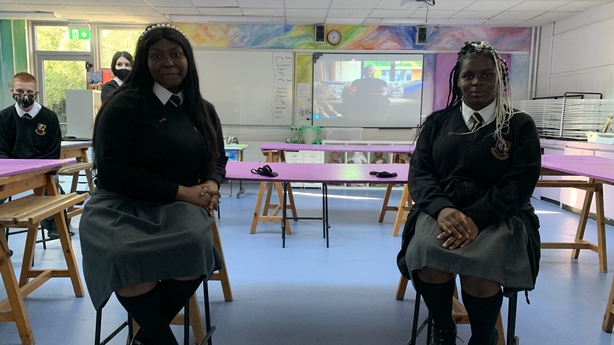 Rachelle wanted to highlight the discrimination facing young black people in Ireland. "It's not heavy, heavy racism its more casual; snide comments and racial slurs," Rachelle told RTÉ News.
"They say something that they don't even realise [causes offence]. It's just not what you are supposed to say to someone and sometimes it is dehumanising. And that was the message we are trying to send with the march, to educate people," Ms Biayi said.
Stormzy's personal message to the school meant a lot to both staff and students.
18-year-old Tmoni Nolan was ''buzzing'' after watching the video. "I love Stormzy. I just can't even describe how I'm feeling right now, it's so overwhelming," he said. Tmoni described watching Stormzy's message to students as an ''unbelievable experience'' and said the grime artist struck a chord with many of the students who have had ''ups and downs in their lives."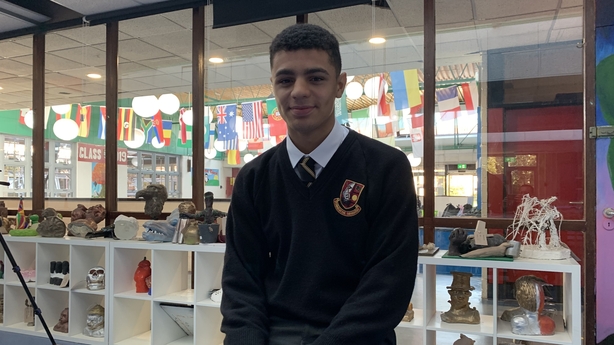 There are more than 700 pupils enrolled at the mixed secondary school and the rappers words of encouragement came at just the right time.
"For the kids coming back to school at the moment its been tough, they are all subdued," Principal Pat Mc Kenna told RTÉ News.
Teachers said Stormzy's video has boosted morale. ''It will raise spirits. The message he sent, that you are all superheroes and I think that's a very important message for them," Mr Mc Kenna said.
The rapper's call for empowerment resonated with many of the Dublin students. Sophie Kelly watched the video along with several of her classmates.
"I have a lot of black friends and I would never want them to feel uncomfortable," she said.
"I think it is very important that we know what makes someone uncomfortable so that we can be aware and do our best to support them", Ms Kelly added.
Stormzy ended his message by encouraging young people everywhere to never give up on their dreams.
"Despite the colour of your skin, despite where you come from, despite your religion, despite whatever it is that you feel may be holding you back; you are a Superhero,"' he said. "So, I wanted to make this video to inspire you guys, to make you realise that the sky is the limit."
Stormzy's words of encouragement left everyone at Pobalscoil Neasáin beaming from ear to ear.
The Baldoyle students said Stormzy has the power to ''change lives'' and make a real difference. It's something they hope to emulate as they begin a new chapter in their young lives.