The Taoiseach has described the treatment of Debenhams workers as "shabby, shoddy and unacceptable".
Earlier, liquidators for Debenhams withdrew a proposal to provide €1m in additional funds on top of statutory payments due to its staff in Ireland who were laid off earlier this year.
Around 1,000 workers lost their jobs when the chain went into liquidation in April, and since then the union Mandate and former staff have been campaigning for better redundancy terms.
Micheál Martin said the failure to honour the agreement that workers had entered into was "unacceptable".
He said all sides must get back around the table in order to bring about a resolution and see what type of package can be worked out.
"Mandate will tell you it is challenging in terms of trying to work out a satisfactory package for the workers involved."
He said the Government has committed to reviewing company law to render it impossible for companies to create situations of this kind and he said those loopholes have to be closed.
The Taoiseach also said that the Tanáiste Leo Varadkar had asked the company law review group to expedite their assessment and he said it would be finished by quarter four of this year.
He was responding to Sinn Féin leader Mary Lou McDonald who said Debenhams had "shut up shop" and left workers "high and dry".
She said that the liquidator KPMG had withdrawn the offer to workers which she said was "very provocative".
We need your consent to load this rte-player contentWe use rte-player to manage extra content that can set cookies on your device and collect data about your activity. Please review their details and accept them to load the content.Manage Preferences
Ms McDonald said she had already asked the Government to intervene in support of the workers and legislate so this scenario could never happen again.
She asked the Government to set out what it had done given the arrest of Debenhams workers today.
Ms McDonald said the Government had committed to review company law with a view to amending it and she asked where this review was at.
She said the Government must stand up for workers and legislate in their interests.
Taoiseach describes treatment of Debenhams workers as 'shabby, shoddy and unacceptable'. He was responding to Sinn Féin's Mary Lou McDonald, who said Debenhams had 'shut up shop' and left workers 'high and dry' | https://t.co/JQvNqkerHk pic.twitter.com/AXfJVGkylr

— RTÉ News (@rtenews) September 8, 2020
Meanwhile KMPG, the liquidators of Debenhams, have denied suggestions on social media that they have been denying food to workers who have been occupying the Patrick Street store in Cork since this morning.
In a statement, KPMG said there had been a lot of "noise" on social media suggesting that they had been refusing to allow food to get to the workers.
"This is completely untrue, and they have been helping to organise food to get to them," the statement said.
Since April, staff and activists have picketed Debenhams stores, preventing KPMG from removing stock.
Today, former stores in Dublin's Henry Street and Cork's Patrick Street were occupied by former staff, who were later removed by gardaí.
Debenhams workers are continuing their occupation of the company's store in Cork this evening. They say they intend to stay there.
KPMG issued a statement earlier today saying: "Following the actions of certain people overnight it has now become clear that the offer is not acceptable to the former employees and others.
"In light of these developments, the liquidators have formally withdrawn their support for the settlement agreement this morning.
"No further settlement agreements will be negotiated by the liquidators with the former employees."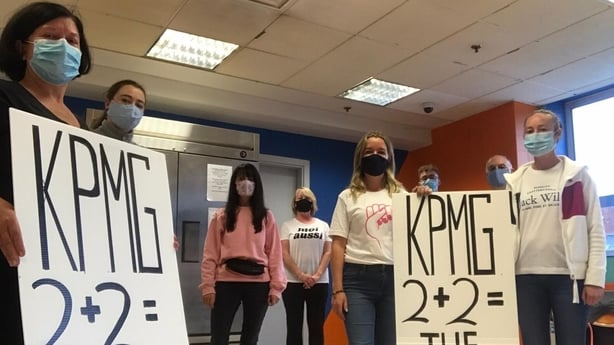 Last week, RTÉ revealed that under a potential deal between Mandate and liquidator Kieran Wallace, at least €1m (over and above monies due for statutory redundancy) would be released for distribution to staff.
In exchange, workers would lift the pickets on the stores and allow stock to be removed and sold off, with a third of the net profits of that sale going to staff.
However, Debenhams shop stewards wrote to their union Mandate describing the potential deal with the liquidator as "an insult to members", which should be rejected.
Staff have been demanding at least four weeks' pay per year of service as per a pre-liquidation collective agreement, rather than the statutory minimum of two weeks per year of service capped at €600 per week.
The cost of this additional claim is estimated at over €10m, but KPMG has argued that the company is insolvent and this funding is not available.
The General Secretary of Mandate Trade Union said that ICTU's General Secretary has received a commitment from the Minister of State for Employment Affairs and Retail Businesses Damian English that he will be writing to them with a view to commencing a meaningful process.
This follows a proposal by the unions for the introduction of new legislation which would allow the workers to get what is owed to them.
Speaking on RTÉ's Drivetime, Gerry Light said this is not time for condemnation of the Debenhams workers and that last night's action was "an outpouring of the frustration and anger that has been building up over 150 days of workers being on picket lines".
Mr Light said the workers' motives are entirely aligned with what their union, Mandate, is trying to achieve.