It came ashore at Gaoth Dobhair in Donegal in 1977 for minor repairs but over four decades later, Bád Eddie has become an iconic structure on the beach.
The fishing boat is the spot where every holiday-maker takes a photograph and locals pose for weddings, communions, even christenings. It has featured in Vogue magazine as well as the music video for In a Lifetime by Clannad and Bono.
Sonia Gillespie looks out on the scene every day from her home overlooking the beach.
She researched Bád Eddie, which was built in Brittany, France, for a documentary for TG4 and is now part of a new local committee set up to campaign to preserve what is left of it by incorporating the skeleton into a permanent structure on the beach.
A local ship builder carried out the repairs needed to some planks after it first came aground but the engine was never replaced and the boat just lay there, day after day, month after month, year after year, becoming part of the landscape.
Bád Eddie has been disintegrating across the decades but it has also become a big tourist attraction and locals want it preserved to keep tourism alive.
Local TD Pearse Doherty of Sinn Féin is one of those who had his wedding photos taken alongside Bád Eddie, 16 years ago yesterday.
He is centrally involved in what he said was an ambitious plan to create the first permanent sculpture in the sea in Ireland, a stainless steel full-size replica of the boat, incorporating what is left of the structure.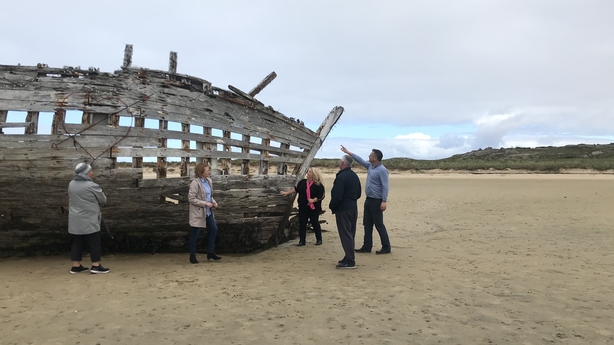 Mr Doherty said the project has the support of Donegal County Council through which it is hoped to source funding but more money will be needed and a gofundme campaign has been set up.
Mary Coyle, chairperson of Coiste Bád Eddie, said the campaign got off to a good start with a recent concert on the beach featuring some world-renowned local musicians including Moya Brennan and Mairéad Ní Mhaonaigh. They have raised over €6,000 so far.
The organisers want to spread the call for support far and wide - including to the Donegal diaspora abroad - and they plan to hold an auction, when it is safe to do so, of paintings of the boat, promised to them by many prominent artists. 
A team from Queen's University, Belfast is due in the area next week to create 3D images of Bád Eddie which will help with designing the permanent structure.
Anne Marie Ferry, a member of the committee, said the boat is vital to the future of tourism in the area. While they have a good idea what the sculpture will look like, they are open to other ideas people may have to preserve what has become an icon in the community. 
The immediate priority for the committee now is to protect what is left of of Bád Eddie from the winter ahead.