Around 100 people have attended an anti-RTÉ protest on the grounds of the organisation in Dublin.
The crowd gathered outside the entrance to RTÉ in Donnybrook, before making their way through the barriers to the main TV reception.
A number of people made speeches, including activist Gemma O'Doherty, as some members of the crowd banged on the glass.
One speaker also warned gardaí that the next time they came back to protest they would be going through the doors.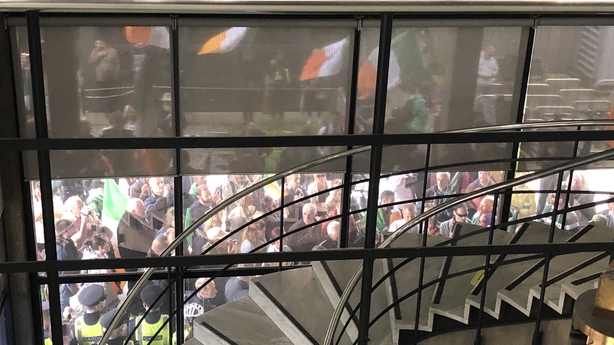 The protest heard calls against the use of face coverings, the gardaí and the Government's response to Covid-19.
The crowd also heard speeches criticising the arrest of Ms O'Doherty in Co Wicklow yesterday. Fellow activist John Waters was also in attendance this afternoon.
The crowd did not socially distance or wear face coverings.
Banners were earlier hung at the footbridge across the N11 outside the entrance to RTÉ.
A number of gardaí and members of RTÉ's internal security team were on the scene.