Apple growers say that the recent stormy weather will have a serious impact on their crop yield this year.
Two storms in as many weeks recently have wreaked havoc on orchards across the country and growers now say that over 30% of this year's apple crop has been lost due to weather conditions.
The recent storms struck at the worst time for growers, as the trees are heavy with fruit and leaves, which leaves them vulnerable to wind damage.
Storm Ellen and Storm Francis, which hit Ireland in the last two weeks, have resulted in a large number of apples fallen from trees before being fully mature and many more trees breaking in the strong winds.
James O'Donoghue, who is an apple grower in Co Tipperary, estimates that he has lost more than two dozen apple trees in the last two days.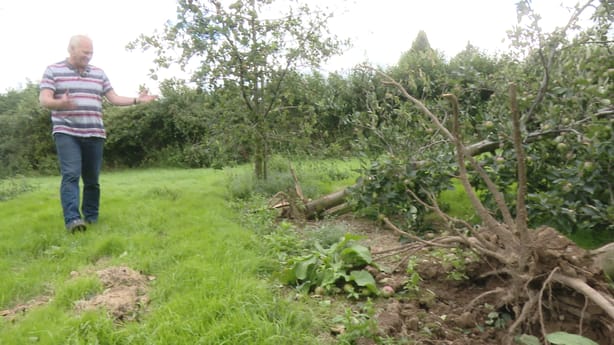 James said that "it takes up to seven years for an apple tree to reach maturity so this is a big loss to my business".
He added that he had spoken to other growers following Storm Francis and they estimate that nearly a fifth of the crop had been affected by the two recent storms.
He said that the recent storms, in addition to the late frost in May followed by a prolonged dry period, has led to losses of over 30% in the crop yield for some growers.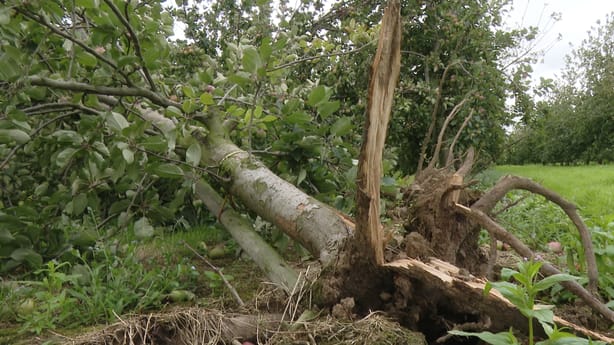 About 5% of the apples consumed in Ireland are produced here.
But James O'Donoghue said that while the impact of this year's weather events on apple growers may not be felt by consumers, the effects of the weather this growing season will mean that many growers will be facing a loss in their business due to reduced yields.