There have been no further deaths and 53 additional confirmed cases of Covid-19 reported here in the past 24 hours. The death toll here remains at 1,763 with a total of 26,162 cases.
Just four cases were identified as having been transmitted in the community with 45 associated with outbreaks or close contacts of a confirmed case.
Of the cases notified today, 27 are men and 26 are women. 80% are under 45 years of age. 25 cases are located in Dublin, 19 in Laois, six in Kildare and the remaining three are spread across two other counties.
Acting Chief Medical Officer, Dr Ronan Glynn, said: "The source of transmission for over 90% of cases reported today has been identified. This is a positive development in light of the number of cases reported over the past few days.
"However, our five day average for cases reported is now 47. We all need to continue to adopt a prevention mindset and continue making good choices to protect ourselves and others while trying to live safely with Covid-19.
"People are still susceptible, this virus has not changed.
"We know how to break the chains of transmission," said Dr Glynn. "Let's stay the course by physically distancing, washing hands regularly, wearing a face covering where appropriate, avoiding crowds and doing all we can to protect each other."
Earlier today, the Minister for Health said the Government will introduce random testing at airports because the "international situation is becoming more volatile".
Stephen Donnelly said: "We're introducing random testing at the airports and an increased public health presence.
"We are examining other options as well for further restrictions on non-essential travel because ... the international situation is becoming more volatile."
A Government spokesperson later said that Covid-19 testing at airports was approved at Cabinet earlier this month.
Asked if Ireland is doing anything differently to other countries that are seeing a resurgence, Mr Donnelly said that in terms of foreign travel, Ireland had the most restrictive measures of any EU country.
Speaking to RTÉ's The Week, he said the passenger locator form was being made electronic and tracing team there was being bulked up.
He said the international situation is becoming more volatile, adding that the Government is taking a cautious approach.
A spike in the number of coronavirus cases in Ireland has caused concern among health officials. In the past three days before today, there were 168 new cases of the virus, compared with 65 cases in the three days before that.
---
Listen to Minister Stephen Donnelly's interview on RTÉ's This Week
---
Mr Donnelly also said NPHET will look "at all options" regarding the reopening of pubs when it meets on Tuesday, with a view to keeping the reopening of schools on track.
Asked about whether the reopening of pubs on 10 August will go ahead, Mr Donnelly said the Government will make a decision based on advice from NPHET and said he did not want to prejudge what it advises.
Mr Donnelly said it was a really difficult situation facing pub owners and that he had sympathy with them.
Given that we now have a five-day case average of 44, he said NPHET will look "at all options" on Tuesday, with "a view to keeping the reopening of schools on track".
The Minister said international experience shows that when pubs reopen, the number of cases go up.
Mr Donnelly said the good news was that the number of people being hospitalised was falling, adding that there were fewer than ten cases in hospital, with four in ICU.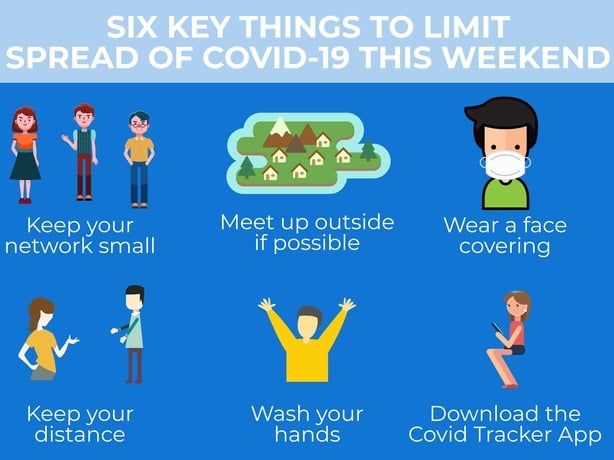 Speaking to the same programme, consultant in infectious disease at the Mater Hospital Dr Jack Lambert said the solution was not to have more restrictive processes in place than our EU neighbours.
He said we need to have a plan that is viable and sustainable to work with Covid-19 in the long run.
Dr Lambert said Covid-19 is not a short-term problem and will go on for around three years, adding that we cannot stay in lockdown for three years.
He said the economy and public health needed to be balanced, but with health, of course, being the priority.
He told RTÉ the reopening of pubs was not a simple issue and questioned if we should have opened all restaurants.
Dr Lambert said the wrong message was being sent at the moment in saying that "if we open up the pubs then the schools won't be able to open".
He pointed to Denmark as a model for reopening schools, but added that they tackled the virus much better at a local community level.
Pubs reopening like restaurants should be examined - Sinn Féin
Sinn Féin Health Spokesperson David Cullinane has said the idea of pubs reopening under the same guidance as restaurants should be looked at.
Also speaking to RTÉ's This Week programme, he said no unnecessary risks should be taken and public health advice should be adhered to, but the situation was creating a lot of uncertainty.
On the reopening of pubs, he said the opposition was not party to the same information shared with the Government from public health officials.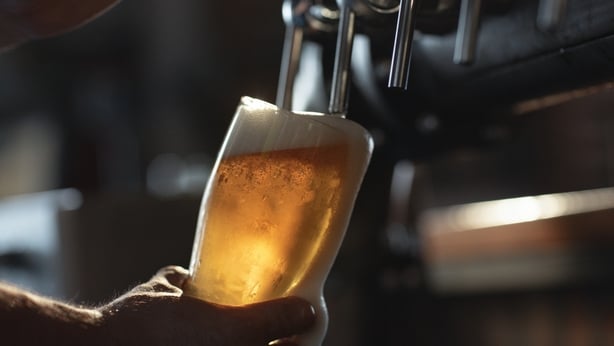 He believed that the reopening of pubs under the same situation as restaurants needed to be looked at.
Mr Cullinane said everyone should be concerned with the rise in the number of cases, and the clusters around the country.
He said the robust workplace procedures and guidelines put in place also needed to work, which he said was not working to his satisfaction if you look at the number of inspections happening in workplaces.
He said there is an average of about ten enforcement proceedings per week, which he said he was concerned about.
In a statement, Mr Cullinane said he welcomed the announcement by the Minister for Health that random testing will commence at airports.
"It is imperative that we have robust checks in place at our ports of entry to try and detect those carrying Covid-19."
Also today, the HSE confirmed that over 1.5 million people had downloaded the Covid Tracker app. "Thanks for helping keep us all safe and protecting each other," it tweeted.
Thanks to the 1.5 million people that are helping to keep us all safe and protecting each other by downloading the COVIDTracker app https://t.co/VsgzUzW2at pic.twitter.com/tiwz4cNaDf

— HSE Ireland (@HSELive) August 2, 2020
Minister confident over childcare services
Meanwhile, the Minister for Children has said he is confident that the vast majority of childcare providers will be back up and running by the start of the new school year.
Speaking on Newstalk, Roderic O'Gorman said around 90% of such services had applied for the Government's reopening grant.
He said it gives a real degree of certainty for those employed in such services and for parents involved that they will be reopening.
Mr O'Gorman said they will keep pushing for any providers who have not yet applied to do so and to avail of other schemes if possible.