A new report from the Economic and Social Research Institute has concluded that road transport drivers, care workers, security guards, and farmers are particularly vulnerable to the worst outcomes if they become infected with Covid-19.
It urges the State and private industry to design and implement innovative strategies to protect those workers who are most vulnerable to severe illness.
This ESRI report looks at three risk factors associated with those who get sickest and have the worst outcomes from Covid-19.
It then digs into labour force survey data to see where the people with those risk characteristics are more likely to work.
The risks include underlying health condition, such as heart disease, respiratory disease, diabetes, and high blood pressure.
Being an older worker and living in a deprived area are also connected with worse outcomes.
The report found that 15% of all workers have Covid-19-vulnerable chronic illnesses, but that housekeepers and related service workers, transport workers, and caring professions are far more likely to have such illnesses than other workers.
The most vulnerable workers in terms of age are farmers, followed by housekeepers and transport drivers.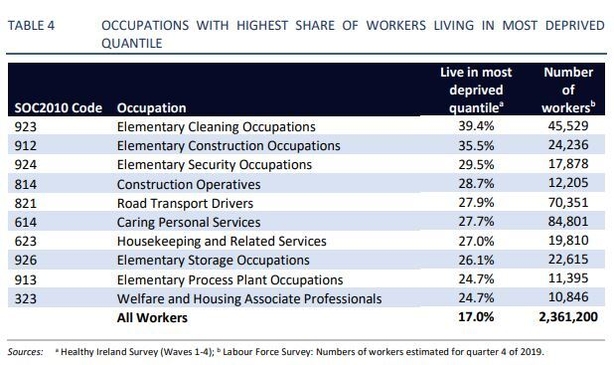 The occupations that disproportionately live in areas of high deprivation, according to the ESRI, are cleaning and security, factory workers, care workers, housekeeping-related workers, and transport drivers.
It concludes that special efforts should be made to protect these workers from Covid-19.