Ruth Morrissey had great strength of character, but also a great sense of justice that drove her to make great sacrifices, her funeral mass in Monaleen, Co Limerick, has heard.
The CervicalCheck campaigner died on Sunday at the age of 39.
The mother of one had sued the Health Service Executive and two laboratories for incorrectly reading her cervical smears in both 2009 and 2012. 
Taoiseach Micheál Martin apologised in the Dáil yesterday to Ms Morrissey and the other women affected by the CervicalCheck controversy.
Paying tribute to his wife today, Paul Morrissey spoke of her strength, her resilience and bravery, and said she had carried her illness with great dignity but also with great humour.
He said they met when they were just teenagers and were the best of friends always. She was stunningly beautiful but also caring, kind and wise beyond her years.
He said he and their nine-year-old daughter Libby are heartbroken and devastated about her death. 
"I do not think we will ever recover from losing Ruth," he said.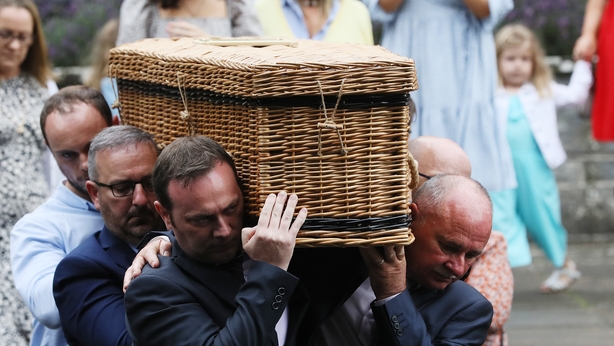 Family friend Fr Noel Kirwan in his eulogy drew parallels between Ruth and Mary Magdalene, which is the name of the church where the funeral took place.
He said she knew about suffering and pain, but also about injustice.
He said Mrs Morrissey also had great strength of character, but also a great sense of justice that drove her to make great sacrifices. 
She reached out to those other women who were suffering from cervical cancer and spoke to them, telling them to go for their smear test, to listen to what their doctors were telling them - this was her struggle, but also her kindness and her strength, Fr Kirwan said.
She knew there were many women and other families struggling for justice, and in the midst of her pain and personal crisis, she saw to it that friendships would continue, and that her family was at the centre of everything she did, he said.
Ruth had given great witness and great love, she had lived justice and that life will never be quenched, he said.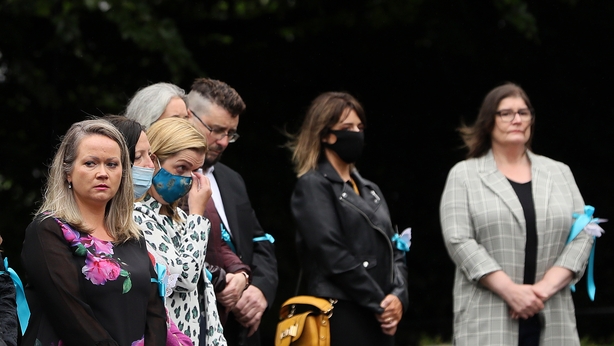 Ms Morrissey's solicitor Cian O'Carroll read a bidding prayer for the 221 women involved in the CervicalCheck support group and the others who have been inspired by how she met her illness and her fight for justice.
Members of that support group formed a guard of honour outside the church. Local people also came to stand outside the church to show their support to Mrs Morrissey's family and close friends.
President Michael D Higgins was among the many people who paid tribute to Mrs Morrissey, saying her "tremendous courage in an arduous campaign for truth and justice leaves a legacy of courage for all Irish people, and for those campaigning for women's right to healthcare in particular".
Today, HSE CEO Paul Reid offered his sympathies to Mrs Morrissey's family.
At this morning's HSE briefing on the Covid-19 pandemic, Mr Reid said he has written to Mr Morrissey, through Ruth's solicitor, to express the HSE's deepest sympathies and apology for what happened to her.
He said Mrs Morrissey was "a very courageous woman".