The white carrier bags lined up on the tables and on the floor in the Capuchin Day Centre vividly illustrate the number of people, including many children, in one part of Dublin city who need food this weekend.

Each of the almost 2,000 bags represents a meal for someone and contains fruit and plastic cutlery.
A hot meal in a polystyrene or tin foil container will be put into it before it's handed out by the religious, staff and volunteers.
Those who cook and package the food and those outside who distribute it and manage the crowd all wear protective masks.
Protective screens have been installed at the entrances and all necessary precautions are being taken to stop the spread of the coronavirus.
The people in need arrive from early morning. The centre's motto is "no one goes hungry."
"We feed around 200 people at breakfast and 700 at lunchtime," Brother Kevin Crowley said.
Covid-19 may have necessitated major changes in the way the centre now operates but no one who comes here leaves hungry.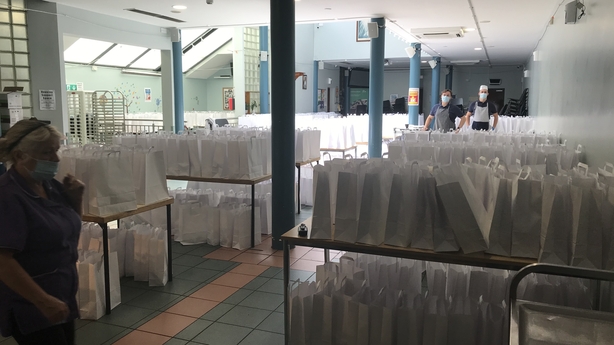 The restaurant where people previously ate had to close. It wasn't possible to feed 1,000 people a day there and maintain social distancing. It is now used for storing and distributing the take away meals.
Some take the food away, others can be seen sitting eating on the nearby doorsteps and pavements around the centre but the Capuchins have also provided indoor shelter in case of bad weather and for those who wish to eat inside.
They have opened the doors of St Mary of the Angels Church on Church Street at the back of the Friary where the food is handed out and people are allowed to take their meals inside.
The waste is thrown into bins and taken away and the pews immediately disinfected.
Although it is now used a refuge for the destitute, the church remains a place of worship and mass and the celebration of the sacraments continues as normal.
The Capuchins have adapted to the necessary health guidelines around Covid-19.
Not only are they continuing to feed hot meals to up to 2,000 people a day in Dublin's north inner city, they are also continuing to them offer grocery packages and baby supplies.
Reporting: Paul Reynolds