Engineers from Leitrim County Council are monitoring the impact of significant mudslides near Drumkeeran, which were caused by heavy rain over the weekend.
Tonnes of peat slid down the Shass Mountain above the Dawn of Hope Bridge, which has been covered and damaged.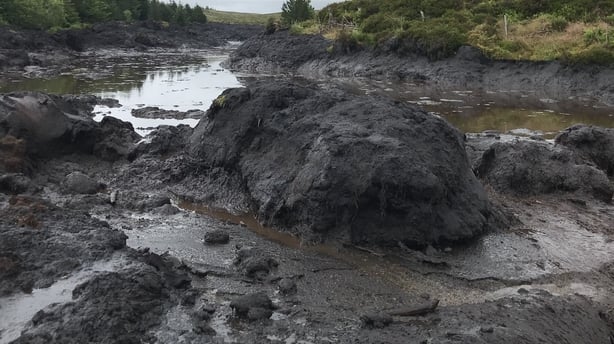 Acres of farmland have also been covered by the peat and a number of roads are blocked.
Drumkeeran IFA chairman Tommy Drugan said there are about a dozen farmers affected.
Mr Drugan told RTÉ's News at One that the surrounding lands have been devastated by the displacement of thousands of tonnes of land.
"You'd have to see it to believe it. It is like something out of a movie," he said.
He said the big concern now is that if there is more rain, more peat will slide down from the top of the mountain.
"During the day you can monitor what is happening, but at night, if more bog was to move, then it would surround houses. It would have the power to demolish houses."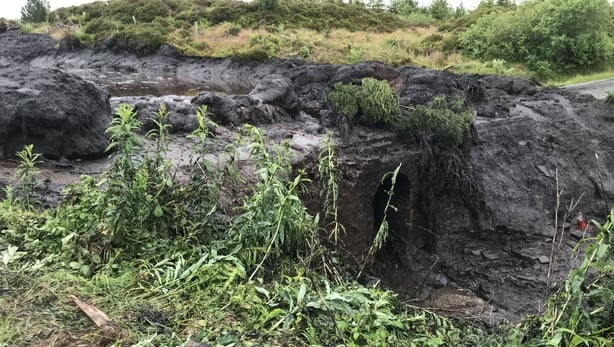 Leitrim County Council senior engineer Terence McGovern said it appears that during the recent good weather the bog on the mountain dried out, leaving cracks or fissures.
He said these filled with water during torrential rain at the weekend and the bog started to move on Sunday evening.
Sinn Féin Councillor Padraig Fallon complimented Leitrim County Council staff who have been on site since the start of the incident.
However, he said intervention is needed from the Government, including a hardship fund for the farmers affected.
In a statement this afternoon, Leitrim County Council said it "continues to assess the situation and monitor the direct impacts. Through this monitoring should emergency actions be identified, appropriate actions will be carried out."