As skill sets go, it's a fairly unique one.
Standing in front of 83,000 people, in front of the President and Taoiseach and a host of other dignitaries, in front of a massive global television audience, in front of a band of over 50 members who are glued to your every movement, you have to get the up tempo beat of the national anthem right on cue so air force jets can fly overhead.
It's one of the more challenging aspects of being the musical director of one of the country's oldest and most high-profile groups - The Artane Band.
Yet Ronan O'Reilly manages this particular part of his job on All-Ireland Final Sundays with aplomb.
These days the challenges facing the director of the Artane School of Music at his headquarters in north Dublin are somewhat different.
"So we had to revise everything. Obviously the band would have normally been in a rehearsal room that would fit 50 people.
"Due to social distancing here, we have boxes every eight feet from chair to chair because people have instruments, longer instruments whatever so we had to be very, very perfect with our measurements," Mr O'Reilly explained.
This week, the band has got back together.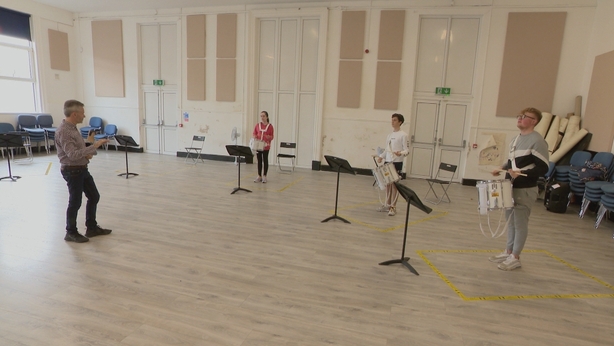 The public health emergency meant the iconic ensemble that provides the soundtrack to so many big match days in Croke Park could not meet up and rehearse as normal since mid March.
But while they might be back, the rehearsals look and sound very different.
"We would normally have 50 or 55 in the band, so we are now in groups of eight in this large space, everything then between our rehearsals is wiped down," Mr O'Reilly said of the new hygiene requirements.
The band does play on though, despite the new realities.
"We have our gel on the way in the door, everybody is temperature checked on the way in the door, everyone has to line up on the way in the door, so it's amazing when the kids came back on Monday they actually just automatically went into this," he explained.
"Although we did send an email out to all the parents explaining we were going to do this, it didn't seem to be an issue with anyone. They literally lined up outside the door, it's like they are used to it."
With the GAA's marquee games postponed until later in the year, the iconic sight of the blue and red uniform parading counties around Croke Park's hallowed turf won't be seen until much later in the year.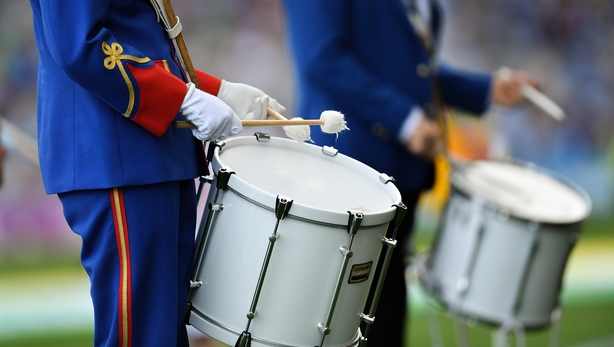 Any silver lining for those in Artane?
"When you don't see us in Croke Park we would be doing concerts, like staged concerts," Mr O'Reilly said.
"The difficulty of that now is the handling of music, the drummers that you would see they would normally play a combination of instruments, and share sticks and share instruments - obviously we can't do any of that.
"It's a great time for us to knuckle down to learn a new repertoire and stay in a marching format therefore everyone has their own music folio, so again the music is all handed out by gloves so it's all very clean.
"It works, it gives us an opportunity to concentrate on the marching band and to bring some of younger players through," he said.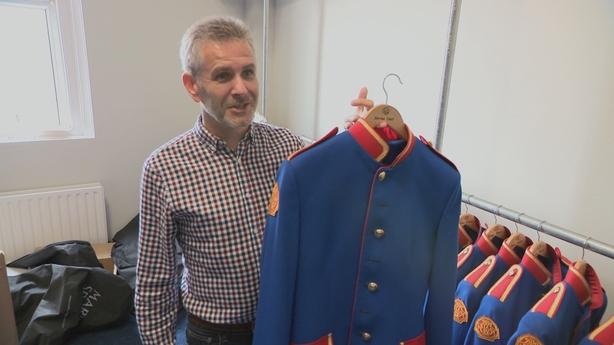 If Mr O'Reilly is keen to give youth a chance during the pandemic, he's also keen to see the silver linings in the current predicament, especially when it comes to their much-anticipated Croke Park comeback.
"A marching band naturally has social distancing so when we are on the pitch we are actually eight foot apart on the pitch anyway.
"So it's actually easier for us to go to Croke Park and be a 50-piece band because obviously in the tunnel we have the room to always have that social distancing.
"So I think we are looking forward to getting back."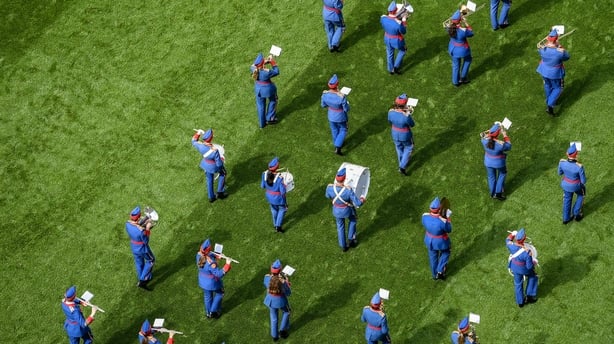 The learning curve continues for Mr O'Reilly who has been his role for 22 years.
"Sometimes it's actually easier to teach in small groups, because we are doing a new pop chart, it gives you greater concentration on eight players, whereas sometimes in the full sound of 50 you don't hear as much detail as you want," he explained, adding that while this helps teaching, it's a bit more boring for the band members themselves.
"They miss the big sound," he acknowledged.
"Even having started back coming in in groups of eight, you think that, like everybody in the world, we have been stuck in our houses and we haven't had any contact with people.
"As soon as we started playing music the other day, everyone's face lit up and there was a general peace and happiness, you know, just great to be back, you know, so it's fantastic," he said.