Hairdressers and barbers have begun cutting hair again, after their reopening date was brought forward as part of the country's road-map for easing Covid-19 restrictions.
However, some barber shops decided they didn't want to wait for daybreak, and over the past few days had been taking appointments to cut customers' hair at midnight last night.
Choppers Barbers in Terenure in Dublin was one of those that wanted to be a cut above the rest and opened in the early hours of this morning.
"The sensation of getting all this hair off now ... all the fluff on the back of my neck ... I tell you something - I was like a horse."
That was the reaction of the first post-Covid customer through the door of the shop, Neil, who said he was "just so fed up with my hair down to my ankles and I said I'll try and get first in the queue".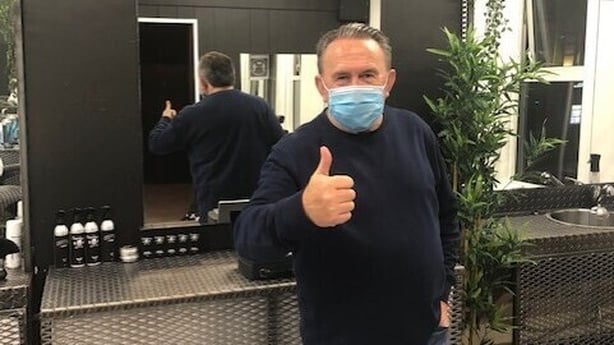 "I thought rather than trying to make my way down tomorrow I'd book in and get the first hair cut."
Next into the hot seat was Daragh who said his partner "has been butchering my hair for the past few months so I just wanted to get a professional chop".
The new health and safety protocols at Choppers include the prevalence of hand sanitiser, wearing a face mask, disposable gowns as well as no face-to-face interaction with the barber during the cut. This means procedures like beard and eye brow trims are unlikely in the near future.
Daragh says these changes "are necessary for us to get back to any sort of normality ... it's just something we're going to have to get used to".
Choppers Owner and head barber Ben Condron explains there are a host of new measures in place as part of the post-Covid regime in the shop.
"The night before we would have sanitised the whole room, then the next day we come in, we sanitise our hands, we set up our stations and make sure all our equipment has been sanitised again.
He adds: "We set out the gowns for each appointment during the day and dispose of them after every haircut. We wash our hands, sanitise and clean down the seats each time between customers."
Their shop has also implemented a one-way system for customers to limit physical interaction and bookings can only be made online or over the phone and payment is contactless.
Ben says his "phone was hopping" with people looking to book in for a midnight cut and "they didn't care what time of day" it was.
He also says he has had numerous high cash offers during lockdown to cut people's hair, with one potential customer even offering €450 for a hair cut - an offer which was declined.
Based on demand on his booking system, he expects the next few weeks to be especially busy.
"Everyone is long overdue a haircut or needs a haircut fixed after the lockdown and they are dying to get back in and get back to feeling themselves," Ben says.
And he warns, in jest, that there are "a lot of shaved heads and bold hair cuts walking around".