Minister for Transport Shane Ross is to bring a memo to Cabinet tomorrow that would make it compulsory to wear a face covering on all forms of public transport.
The National Public Health Emergency Team will meet tomorrow to discuss Phase 3 of the roadmap for easing restrictions.
The Government will then decide tomorrow afternoon how to proceed.
It comes as there have been six more Covid-19 related deaths confirmed by the Department of Health, bringing the total death toll here to 1,726.
Five additional cases were also reported. There is now a total of 25,396 confirmed cases of Covid-19 in Ireland.
As of midnight on 21 June, 92% of all confirmed cases to date are estimated to have recovered from the disease.
Chief Medical Officer Dr Tony Holohan said: "Through our collective action, we have moved in the right direction in our fight against widespread community transmission of Covid-19.
"As we go forward, the behaviour and progression of this disease is in all of our hands."
One further coronavirus-linked death was announced in Northern Ireland, with the death toll rising to 547.
Two new cases were confirmed, bringing the total recorded by the labs since the outbreak began to 4,873.
Minister for Health Simon Harris told the Dáil this evening that the R number for Covid-19 has remained stable this week.
He said the best estimates put the reproduction number of the virus in the range 0.5-0.8, which was very similar to recent weeks.
The R number is the average number of people one person will infect.
Earlier today, Health Service Executive CEO Paul Reid revealed that the average number of close contacts of Covid-19 positive cases is now 4.6 people.
Speaking at a HSE briefing, he said the turnaround time from referral for a test to contact tracing results is 1.7 days.
Mr Reid said Ireland was in the top six of countries in relation to testing and that some countries are not doing testing at all.
He said that with the resumption of services, surgery may take two to three times longer.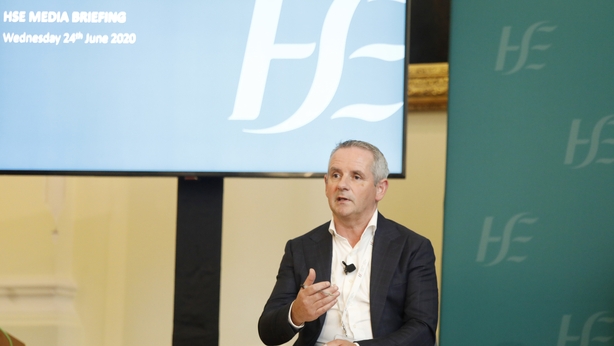 Patients coming in for surgery must have self-isolated first for 14 days and have a negative test for the virus 72 hours before admission.
The HSE also said that it hopes to be able to launch its contact tracing app next week.
Mr Reid said the issue needs to go to Cabinet first. He said the data for the app will not be centrally held, but will be held on the person's phone.
Meanwhile, the HSE has said the cervical screening programme will resume next month and it hopes to clear the backlog of suspended CervicalCheck screening tests by October.
Broad political welcome for compulsory face coverings
Fianna Fáil's transport spokesman Marc MacSharry has said he would welcome making face coverings compulsory on public transport. 
He told RTÉ News: "If compulsory use of masks increases much needed capacity on public transport - both commercial and State-run - it is a welcome development."
Mr MacSharry said that what he termed "special arrangements" would be needed for "young children or those unable to use masks for health reasons".
Sinn Féin's health spokesperson Louise O'Reilly said that making masks compulsory on public transport is a "good idea", but she warned many things had to be put in place before they could be introduced. 
Ms O'Reilly said the Government had to make sure there is a "steady supply of appropriate masks" for the public and these should come from a "domestic and secure supplier".
She told RTÉ News there would have to be what she termed a "detailed information campaign" before such a plan was introduced, so the public knew why the campaign was being launched and how masks should be worn correctly. 
The Sinn Fein TD said "affordability" of masks was a key consideration and the Government would also have to clarify how exemptions might work - both in the case of children and also adults who can't wear masks for medical reasons.  
Labour's Duncan Smith also called for a public information campaign and for the Government to provide masks to each household.
He said: "It is not just enough to issue a directive to the public, we need a clear, concise advertising campaign educating citizens on the proper usage of face masks.
"I have been calling on the Government to roll out a comprehensive public education campaign but also to consider the provision of masks to each household. This would cost around €60m but would be a welcome investment for the months ahead.
"Face masks should be provided at train and bus stations, healthcare settings, workplaces and our secondary schools and colleges."
Additional reporting Fergal Bowers, Paul Cunningham