The Islamic Centre in Dublin has so many sweets and chocolates on the premises it would make any pick-and-mix look inferior.
They are left over from the biggest event in the Muslim calendar Eid, following Ramadan.
Given that Eid happened during lockdown, a lot of the celebratory confectionary has been left untouched.
Sweet toothed visitors to the mosque are doing very well at the moment, but of those, there are few.
The Islamic Centre, like other places of worship at the moment, is preparing to welcome people back to pray on its premises from 29 June.
Its Chief Imam and Chair of the Irish Muslim Peace & Integration Council echoed the views of his Christian counterparts today, saying that he believed the rule that a maximum of 50 worshippers can only attend prayers in the Mosque is too stringent.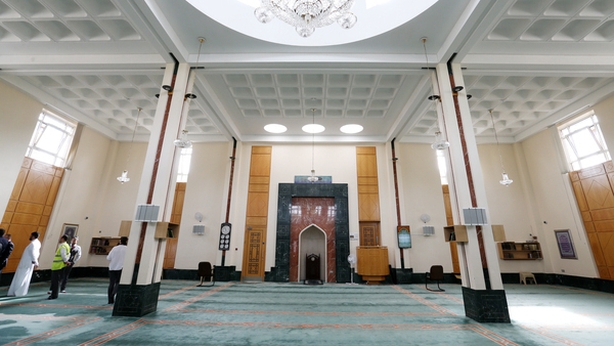 Dr Umar Al-Qadri said it was important to acknowledge that religious and spiritual activities were crucial to spiritual communities, the well-being and the mental health of members of the faith communities.
"I think that places of worship like Mosques, Churches and Synagogues, many of them are able to accommodate more than 50 people while ensuring social distancing measures are implemented; therefore, I do believe this number should be increased."
The Islamic Centre advises worshippers to bring their own prayer mats, their own Quran and that they perform Wudu (ablution), which previously could be done in the mosque, at home.
Where there was one Friday prayer in the past, there will now be three.
All of these measures will accommodate people praying at the Islamic Centre while adhering to the guidelines.
Religious leaders across a number of faiths are calling for an increase in the number of people who can attend prayers, services and masses this week. A maximum of 50 people can attend places of worship from Monday. That figure will rise to 100 people on 20 July. pic.twitter.com/hpVdJ0wjRU

— RTÉ News (@rtenews) June 22, 2020
The Catholic Church has also introduced social distancing in churches and cathedrals around the country.
Over the last six weeks, bishops in the west have worked with epidemiologists, public health representatives and health and safety advisors to pull together "a programme".
"Nothing Can Separate Us from the Love of God" includes training modules that have been delivered to parishes in preparation for the reopening of churches.
There was "a lot of disappointment last Friday when news broke it was going to be down to 50 no matter what size the church", according to the Bishop of Elphin Kevin Doran.
Standing in Sligo Cathedral, which has capacity for 800 people, the bishop pointed out that when social distancing and public health guidelines are taken into account, the number reduces to 150 people.
"Let us do what the public health advice has always been, let us function with a two-metre distance between people," he said.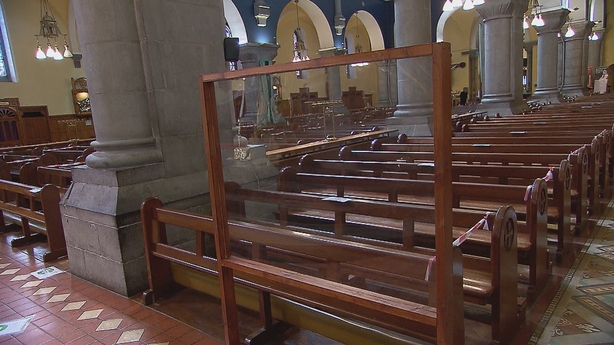 In St Ann's Church on Dawson Street in Dublin, the vicar is looking forward to services returning, even though Reverend David Gillespie has seen the benefit of moving services online because they are seen by people around the world.
The Church of Ireland appears satisfied happy to take the advice of NEPHET, whatever that may be.
"I'm sympathetic that the concern is that numbers may be reduced to 50, but at the end of the day, I'm just pleased that we are getting back, and if we have to work with 50, so be it", he said.
One of the biggest losses to the Church of Ireland service will be the fact that parishioners will not be able to sing, but Reverend Gillespie says the most important thing is that people are safe.
NPHET will meet on Thursday to review the guidelines published last week.
While many church leaders are hopeful that restrictions on the maximum number of people will increase from 50 sooner rather than on 20 July, when it increases to 100, it will depend on the view of NPHET.
Tonight, Chief Medical Officer Dr Tony Holohan reiterated caution around mass gatherings, which he said would likely be in place for some time.
Responding to a question about wedding venues, he said the evidence about how the virus is transmitted is still evolving, in particular in relation to the transmission in indoor settings.
He said there's no country across Europe that's trying to increase those numbers.
The decision on the numbers attending masses, services and prayers will be examined at the end of the week.