The family of a mother-of-two who was left brain damaged after her former partner kicked and stamped on her head 17 times have said the last two years have been "a nightmare".
Lance Dempsey, 28, who had lived with victim Sonya Lee in Cavan town, has been sentenced to 11 years in jail with the final 18 months suspended.
He had pleaded guilty to assault causing serious harm to Ms Lee in the unprovoked attack over two years ago.
Cavan Circuit Court heard that Dempsey left Ms Lee with lasting brain damage following the attack on her at the bottom of a stairwell in March 2018.
So severe was the beating that an earlier stage in evidence, Judge John Aylmer asked if it was required of him to "expose" himself to the graphic CCTV footage of the incident.
Dempsey was subsequently charged with assault causing serious harm to Ms Lee.
The court heard how Dempsey attacked Ms Lee when they were on a night out in Cavan town.
A witness told the court that Dempsey had been "acting aggressively" in the pub.
Andrea Lyons, who knew Ms Lee from school, said he had been "storming in and out of the pub" and she suggested Ms Lee leave when he was not looking.
The couple were asked to leave when Dempsey punched a wall inside the pub and the attack happened soon afterwards.
A witness told the court how he heard a male shouting before the woman said: "Please stop hitting me."
Despite her pleas, Dempsey punched her twice in the head before jumping on her head 17 times.
As Ms Lee was taken to Cavan General Hospital, gardaí went about locating Dempsey.
He was identified by gardaí Niall Cummins and Brian Greevy at a nearby bus stop. He had blood on his forehead, forearm, knuckles and his footwear.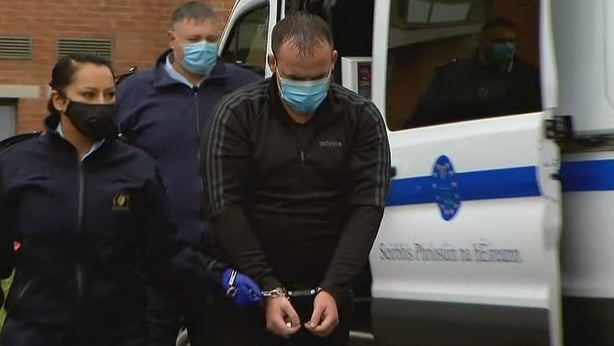 He told gardaí that his girlfriend had "fell down" some stairs. Dempsey then resisted arrest, attempted to hit Garda Greevy and bit Garda Cummins' fingers.
When questioned, he gave gardaí different names and a false date of birth.
He also said he had "no recollection" of the attack but, on review of the CCTV footage, admitted to feeling like a "scumbag".
Ms Lee spent eight months in hospital following the attack and during that time she also contracted sepsis and pneumonia in her lung.
It was only while Ms Lee was fighting for life in hospital, having suffered broken bones in her face and bleeding on the brain, that it was also discovered that she was 15 weeks' pregnant.
Despite the extent of her injuries, treatment for which included ten days in a coma in ICU, Ms Lee went on to give birth to a healthy little baby boy.
The injured party's sister Aisling Lee told the court by way of victim impact statement that while Ms Lee is able to walk and talk, she still needs help with feeding and dressing.
She will never live independently again or fully care for her young baby without assistance.
"She is definitely not the same girl," said Aisling Lee, becoming emotional.
Speaking to RTÉ News, Aisling Lee said the last two years have been a nightmare for her family.
"The first six weeks there were times we were told the life support was going to be turned off. She had an hour to live. The whole eight months of her being in hospital was a nightmare. Then we found out she was pregnant, after all she went through.
The family said today's sentencing will not change their lives.
"It's never going to change what happened to Sonya. She's still going to be brain damaged and he could be walking the streets in seven years" Aisling Lee said.
Ms Lee will never live independently.
"Life is a struggle. It's hard with the two kids. Sonya goes to a rehab centre every day. We have to get on with life now, it's all over," Aisling said.
The family hope their story will help others who are suffering in an abusive relationship.
"If they are in abusive relationship, don't be afraid we don't want what happen to Sonya happen to any other woman. Please speak out" said Natalie Lee, another sister of Sonya.
Ms Lee was not in court for today's sentencing but she echoes that message.
"Encourage them to get out...to leave it..." she said.
Handing down sentence today, Judge Alymer said this was a very violent and vicious assault, at the upper end of the scale, which could not have been better captured from CCTV at the top of the stairs.
He said the CCTV made for "hard viewing".
The judge said there was an extreme level of violence used as the victim lay helplessly on the ground.
Judge Alymer said the very serious permanent harm and brain damage suffered by the victim, the fact her head was the target and the gross breach of trust in an assault of a partner had all been taken into account.
He said all of this was aggravated by his subsequent assault of gardaí and the lies he told after the assault.
However, Judge Alymer acknowledged his immediate expression of remorse after sobering up and his early guilty plea.
He sentenced him to 11 years in prison, with the final 18 months suspended.