An organisation representing more than 400 charity shops around the country says its members are facing losses of up to €23 million this year.
The Irish Charity Shops Association says that closures during the Covid-19 pandemic in recent months came at a loss of €15m in sales.
The group expects continued restrictions around opening hours and social distancing will bring further losses of around another €8m.
Charity shops, like other retail outlets, were allowed to reopen their doors last Monday as Covid-19 restrictions are eased.
Measures like social distancing, hand sanitising stations and perspex screens at checkout areas have been implemented in charity shops that have reopened.
ICSA member shops are also "quarantining" bags of donations that are dropped in for a three-day period.
After this time, donations are sorted and clothing is being steam cleaned before making its way to the shop floor.
St Vincent De Paul reopened 100 of its 234 shops last week, with these safety measures in place.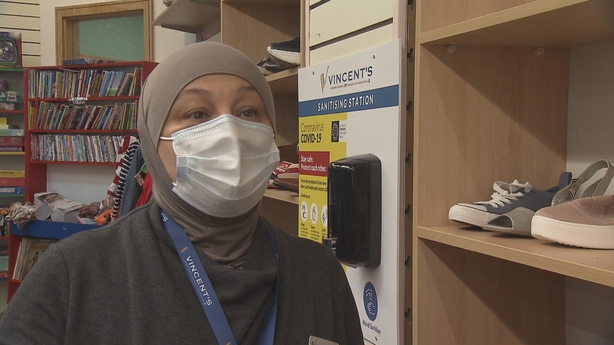 "The first day it was actually very mad. But in a good way. It was so busy and people were so happy, and we were happy to see our customers," says Roza Ataeva, manager of SVP on Sean McDermott Street in Dublin city centre.
Ms Ataeva said that in the last week they have had "tonnes" of donations, and she has been getting up to 70 calls a day from people asking about dropping in donations.
St Vincent de Paul says its shops have lost €2m during the pandemic.
---
---
Dermot McGilloway, the National Retail Development manager with SVP, says it will be some time before shops get back to a normal trading pattern.
"Even though some of our shops have started to reopen, they're open on a very limited basis. We have less stock out on the shop floor, we have less customers allowed in and we have shorter trading hours," he said.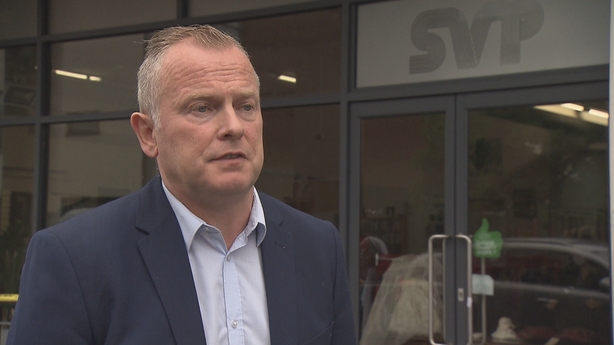 Revenue from the SVP shops funds community services like home visitations and provide assistance to people who need help with things like food and utility bills.
As well as the financial cost to charities because of the pandemic, Mr McGilloway says there has also been a social cost.
"That has been the real cost for us. We would like to look at these shops as recreational hubs. We serve rural communities as well as areas of social deprivation and city centres. Our donors, volunteers and customers come and go all day and people really love the interaction of our shops and people just haven't had access to that for the last 12 or 13 weeks," he said.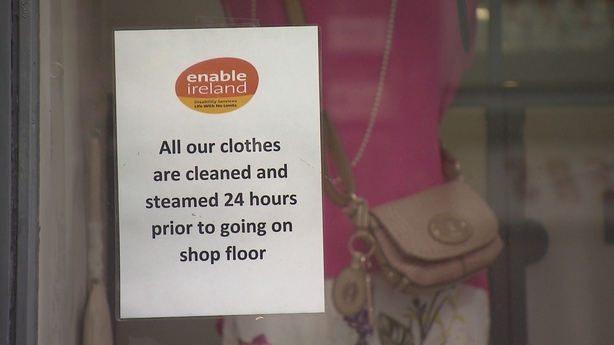 Charities are asking for donations again, which drive the sales in their shops.
Paul Hughes, spokesperson for the ICSA, says "lockdown" over last number of months might mean people have been clearing out.
"People have had three months to clear out wardrobes and cupboards. Most charities will have been getting calls for the last six weeks asking when they're going to open. Donations have been very, very good, but we never have enough donations," he said.
Mr Hughes said that with a potential build up of donations in peoples homes, people should ring ahead to their charity shop to make sure they have room to accept their items, and maybe spread out their donations over a number of weeks.
While donations and sales are most welcome, the ICSA also wants more support from the government.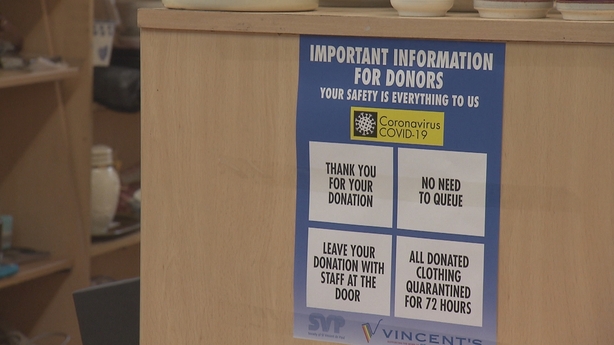 Charity shops would have been eligible to apply for a one off grant from a €40m fund from the Department of Rural and Community Development, to assist with things like rent, rates and insurance.
However, the ICSA is disappointed charities were not able to avail of the government's "Restart Grant".
The Department of Business, Enterprise and Innovation says this particular grant was aimed at commercial businesses, and that "within the funding available, the Department has sought to prioritise commercial entities that are totally dependent on their trading income".
Paul Hughes said the restart grant would have been "really beneficial" and could have brought a €1.6m boost to charity shops overall, and helped with costs like fitting out the retail space under new guidelines.