There were 421 deaths by suicide and intentional self-harm registered in Ireland last year, according to the Yearly Summary of Vital Statistics published by the Central Statistics Office. 
However the figures show significant differences in the suicide rate for different parts of the country.
The highest overall suicide rate was registered in Limerick city at 22 deaths per 100,000 of population.  
This is more than seven times higher than the suicide rate listed for Dublin, which was three cases per hundred thousand people. 
The figures also show the overall suicide rate for males in Ireland is three times higher than for females. 
According to the CSO data the rate of suicide for males in Limerick city was 38.2 per hundred thousand of population, again the highest in the country. 
It is 17 times higher than the lowest suicide rate for males which was registered in south Dublin at 2.2 deaths per hundred thousand of population.
The figures show that 90 people who died from suicide last year were aged between 35 and 44 years old, 78 were aged between 45 and 54, and 68 were aged between 55 and 64 years old.  
The figures also show that 63 young people, under the age of 25, also lost their lives in this manner. 
Another ten cases aged between 75 and 84 years and two over the age of 85 are also noted in the CSO publication.
---
Support is available if you have been affected by the content of this article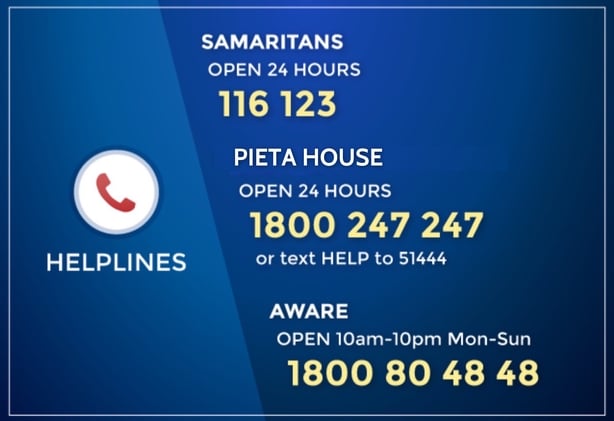 Slight decrease in number of marriages in 2019
Meanwhile there was an average of 390 marriages per week in Ireland last year, down from 405 in 2018 according to the Annual Vital Statistics Yearly Summary.  
The total number of marriages for the year as a whole was 20,313. Just over 3% of them, or 640 marriages, involved same-sex couples.
Ireland's same-sex marriage legislation came into effect on 16 November 2015. The number of same-sex couple marriages peaked the following year in 2016 at 1,056 and so far has fallen every year since then. 
The CSO report also shows that the number of babies born in Ireland fell by 1,220 last year to 59,796 and has now fallen by 20% in a decade. 
Almost 58% of all births were in Leinster, 25% in Munster, 11% in Connacht, with the remaining 6% in the three Ulster counties of the Republic.
There were 1,314 more male than female babies born. The average age of mothers giving birth was 33 years old.