This coming Saturday was supposed to be a big day in Killybegs, Co Donegal, for 42 children and their families.
The children were due to make their First Holy Communion, but like many other events around the country the ceremony has been postponed because of the Covid-19 pandemic.
The children in Killybegs had been preparing for the sacrament in three local schools and at St Mary of the Visitation Church with their parish priest Fr Colm Ó Gallchóir.
Fr Colm was conscious that the children had been working hard to prepare for next Saturday and were disappointed it was not going to happen as planned.
He said he has been thinking about them a lot and decided to put pen to paper and write to each child individually.
The An Post cards were delivered around Killybegs with a personal note for each girl and boy, good wishes for them and their families and a reassurance that when they are back to school a new date will be organised for their Holy Communion.
Fr Colm said the children were very resilient and were able to see positive aspects of their situation.
One boy is Eoghan Byrne Doherty, who said he is happy with the delay because when the new day comes around he will have a new baby sister or brother there to join him.
On the other hand he said he is disappointed that he has to leave his new suit and red dickie bow hanging in the wardrobe for another few months.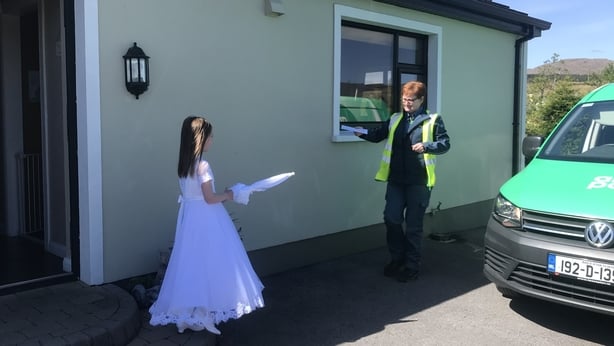 Hearing that the personal cards were on the way, Sienna Rawdon decided that now was a perfect opportunity to wear her communion dress so she was all dressed up when postwoman Thelma arrived at the door.
Sienna thought it was very nice of Fr Colm to write to each child individually and, while she iss disappointed to miss out on the ceremony and celebration this Saturday, she thinks it will happen next year and said she is okay with that.