Ryanair has said it is dealing with 10,000 times its usual volume of flight cancellations and that it is giving customers who cancel flights "all of the options set out under EU regulations".
It and other airlines have been criticised for not offering refunds clearly and upfront in communications with customers, but tonight, in response to queries from RTÉ News, it insisted it is offering refunds, "in the form of cash or vouchers".
However, it conceded that it is taking longer to issue refunds than it should.
"The process time for cash refunds is taking longer due to the fact we are having to process 10,000 times the usual volume of cancellations and have fewer staff available due to social distancing measures," the airline said.
It said that it is offering "free moves", so people can rebook, or get vouchers as there are automated options and are an alternative for customers, and possibly quicker.
The airline also says customers who opt for a refund will be "refunded in due course, once this unprecedented crisis is over".
Aer Lingus has said it is "working around the clock" to try to speed up the time it takes to issue refunds to consumers for cancelled flights.
In a statement tonight, the airline said it welcomes what it called an "acknowledgement" from the Commission for Aviation Regulation that the existing seven-day timeline for the issuing of refunds is challenging in the current environment.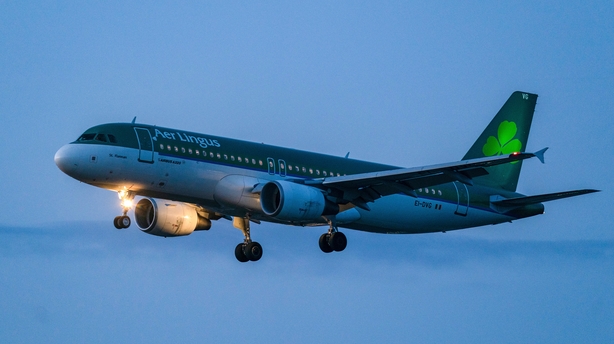 Aer Lingus said it apologised to passengers for the delay in dealing with voucher and refund requests. 
It is "processing an unprecedented level of refund applications, flight cancellations and rebooking requests" and has "expanded teams and introduced new technology in an effort to speed up the process time".
The Commission for Aviation Regulation earlier issued an advisory to consumers about their right to a refund if their flight is cancelled.
The commission pointed out that passengers are entitled to a refund of the ticket prices, if a flight is cancelled.
Regulations state that the airline must refund the ticket price within seven days of the flight being cancelled.
However, in its communique to consumers the commission states: "We appreciate that this timeline can be challenging in the current environment."
The commission makes reference to the fact that airlines are dealing with a high volume of cancellations and need to work to safeguard staff.
Many airlines are offering vouchers to passengers, but the commission points out today that passengers are "under no obligation" to accept such vouchers.
There has been widespread criticism of some airlines for not offering refunds upfront.
Consumers who opt for refund of flights costs, and do not receive one within seven days, can make a complaint to the airline if no satisfactory response is received within six weeks, then a complaint can be logged on www.flightrights.ie for flights which were due to depart Irish airports.