Taoiseach Leo Varadkar has said he shares the discomfort of Chief Medical Officer Dr Tony Holohan in relation to the flying in of a large number of people to Ireland to pick fruit.
It follows controversy surrounding the decision by Keelings fruit company to fly in fruitpickers from Bulgaria.
Critics have said the move created a health risk during the Covid-19 crisis, while others have noted that with unemployment at a record high, the jobs should have gone to Irish applicants.
However, Keelings said it has complied with all health regulations and that not enough Irish people applied for the jobs.
In a statement issued this evening, Mr Varadkar said: "I share the discomfort expressed by the Chief Medical Officer about the report of a large number of people coming to Ireland earlier this week to work in the horticulture sector.
"We need to keep our airports and ports open so essential goods and essential workers can get in and out of the country and Irish citizens and residents can return home.
"However, we need to keep travel to a minimum and ensure that passengers are interviewed on arrival and that quarantine is observed."
He said he has asked for an urgent review of the current rules and procedures that cover interviews and advice at airports as well as which categories of person are able to travel into the country and how they do so. 
The review is to be carried out this weekend and he said it would be considered by the Cabinet Committee on Covid-19 on Monday. 
He added that any changes that are necessary as a result of that review would be made.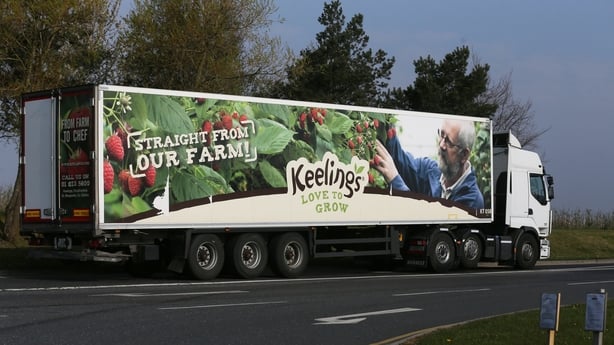 Earlier, a statement from Government said seasonal workers were critical to the agricultural sector "in terms of harvesting, planting and tending functions".
It said the Irish border, including airports, remain open to support the supply chain, for essential cargo and essential workers, as well as bringing people home from other countries.
It added that a national recruitment campaign will begin soon in a bid to recruit "a large number of temporary workers" from the Live Register to work in the horticulture sector.
In a message on Twitter this evening, Minister for Health Simon Harris said he was "deeply uneasy" about the chartering of a plane to fly seasonal workers in to Ireland to pick fruit.
Mr Harris said he did not think the idea of chartering planes at this time to bring people into a country was a good idea. 
He said there would always be a need for essential travel, but he could understand why people were uneasy. 
The minister said he would also imagine that the employment market had changed very significantly in the country in terms of people willing and wanting to work. 
At the Department of Health press briefing this evening, Dr Holohan said he was not comfortable with the idea of workers being flown into the country from abroad.
While he did not want to be seen to comment on any individual cases, he said it was not consistent with public health advice.
Keelings responded to the criticism this afternoon by explaining that it needs 900 seasonal workers, but only received 40 Irish applications for the jobs.
On Monday, 189 seasonal workers flew on a charter flight from Sofia to Dublin to work at Keelings farm in north Dublin for the six-month fruit-picking season.
Keelings said all the workers "had been health screened by a doctor before they travelled to Sofia airport where they were temperature checked before entry".
"Ryanair and Dublin Airport can confirm that all regulations were adhered to. They were taken straight to their housing," the company said in a statement this afternoon.
"In accordance with HSE guidelines, they cannot work for 14 days after their arrival and their movements are restricted. We will take care of these colleagues as we take care of all of our people, permanent or temporary. 
"We have advertised locally over two weeks ago and up until last evening we had 27 applications which falls significantly short of our labour needs.
"Today we have received a further 13 applications so far. We hope to employ as many of these people as possible."
We need your consent to load this rte-player contentWe use rte-player to manage extra content that can set cookies on your device and collect data about your activity. Please review their details and accept them to load the content.Manage Preferences
The company went on to say that the seasonal workers "will be subject to further medical screening before they start work at Keelings".
"We will continue to consult with the HSE and other appropriate agencies to ensure both our staff and the communities they live in remain safe," it added.
Keelings has been growing and packing fruit and vegetables for the Irish market since the 1920s.
The IFA said that while labour is not at a crisis point at the moment, seasonal workers will be required from May onwards. 
Because foreign workers will need to self-isolate for two weeks following entry to the country, growers will need to bring workers in earlier to allow for that. 
The IFA stressed that sourcing workers here in Ireland was not a simple answer, and that despite the current high level of unemployment, there is very little interest in such work from the domestic labour force. 
Despite that, the IFA said it has engaged with the Department of Employment Affairs and Social Protection regarding sourcing potential workers from the recently unemployed and students. 
It said it can take considerable time and expense to train new workers, and due to the low margin in the fresh produce business, labour efficiencies are very important.
It noted that most seasonal workers have been returning to the same farms for years, and are fully trained and suited to the work.
The IFA also stressed that workers would be following all Government guidelines on Covid-19. 
Ryanair said the flight on which the workers travelled was a charter flight for a private company.
It said it had complied with all regulations set out by European Union Aviation Safety Agency and the World Health Organization for such special flights.
Additional reporting: Ingrid Miley