Chefs in Donegal have come together with an idea which they believe could be replicated easily in other towns.
Tim Twomey and Jo Roarty of the Quay West Restaurant in Donegal Town came up with the idea of 'Chef Aid Donegal' and have been overwhelmed with support.
With two other chefs in the town, whose restaurants were also closed, they have set up a kitchen in a former restaurant to prepare free meals every day to deliver to elderly and other compromised people in the area.
They said they want to take the fear out of isolation for people and let them know that someone has their back and that they have food security.
Through the Chef Aid Donegal Facebook page and a dedicated phone line, 087 3752555, the chefs are connecting with people, many of whom are living alone, and organising to have a hot meal delivered to them each evening.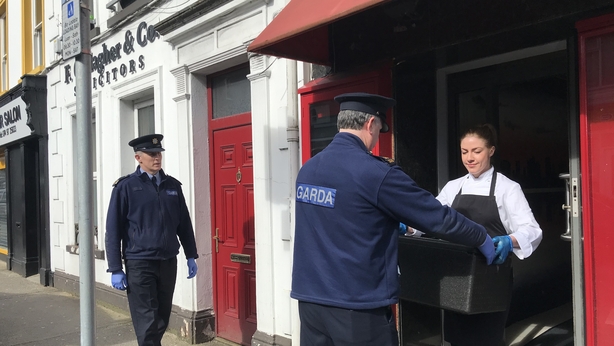 One of the reassuring aspects of the voluntary service is that the meals are being delivered by local gardaí in one of the new Garda-branded cars.
Sergeant Michael McHugh said they are delighted to be part of this initiative to help the most vulnerable in their community and he added they are also there to reassure people and to help them with other things like collecting prescriptions if needed.
The chefs have support from the whole community, with local hotels and Letterkenny Institute of Technology's tourism college in Killybegs giving the chefs the contents of their cold rooms and other supplies.
Local supermarkets, businesses and individuals have donated supplies and money to add to the seed capital already put up by the chefs themselves.
A GoFundMe page has been set up to help keep the service going for as long as is necessary and Mr Twomey says they are in it for the long haul.
He is also encouraging other communities to follow suit and is happy to help them set up similar Chef Aid schemes in other towns.