The Duke of Cambridge has said the changing relationship between the UK and the EU will require both Ireland and the UK to work together to ensure their relationship remains "just as strong".
At an event at the Museum of Literature Ireland in Dublin this evening, Prince William said the links between "our people, businesses and our culture are inextricable" and said we should all be proud to see how strong those bonds are.
Addressing Brexit and the changing landscape, he said: "We must never forget how far we have come together in recent decades in transforming the relationships across our two islands."
He said it is vital that people of his generation, and generations to come, never take for granted the progress that has been made and he said that "we must recommit ourselves to the path of friendship and understanding".
We need your consent to load this rte-player contentWe use rte-player to manage extra content that can set cookies on your device and collect data about your activity. Please review their details and accept them to load the content.Manage Preferences

"It is right that we continue to remember those who suffered as a consequence of our troubled past. And whilst many wrongs have been done, it is important that we are not bound by these," he said.
Speaking at the same event, Tánaiste and Minister for Foreign Affairs Simon Coveney described the three-day royal trip as "an important visit" and said he was hopeful for the future of the Ireland-UK relationship.
"We have of course welcomed members of the British royal family to Ireland before, including Prince William's grandmother, Queen Elizabeth, in 2011, a visit which represented a watershed moment for the Ireland-UK relationship." Mr Coveney said.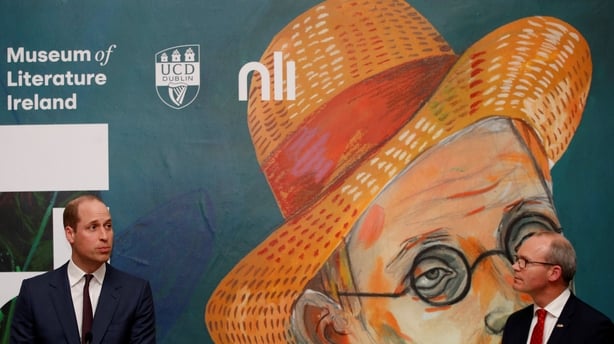 Referencing the Troubles, Prince William said one of the truly profound moments for both him and his wife Catherine took place at the Garden of Remembrance yesterday.
He said it was a reminder of "the complexity of our shared history, and that as my grandmother said during her visit in 2011, 'our islands have experienced more than their fair share of heartache and turbulence'."
Prince William said over the past two days, the royal couple have seen for themselves why Ireland is a country looked upon with such envy.
"As we stood on the cliffs at Howth and looked across the Irish Sea, a mere 50 miles for the British coastline, it was easy to see why so many people find the lure of this beautiful country so difficult to resist," he said.
The Duke said the couple has received such wonderful hospitality and friendship and this morning they were "privileged" to meet a group of remarkable people who are working to improve the lives of those who are less fortunate.
The Duke and Duchess of Cambridge will be shown a first copy of Ulysses. pic.twitter.com/HdZ2K7A8sf

— Sinéad Hussey (@SineadHus) March 4, 2020
Prince William said he was looking forward to seeing "the wonders that the West coast has to offer" when they visit tomorrow.
Offering a toast to the President of Ireland "and the people of this wonderful country", he thanked people for the warmth of their welcome on what he hopes will be the first of many visits for the couple.
Earlier, the Duke and Duchess of Cambridge took in the sights during a cliff walk in Howth in Dublin.
After arriving at the seaside village, the British royal couple were greeted by Yvonne Shields O'Connor, Chief Executive of the Commissioners of Irish Lights, and its Chairman Kieran Crowley.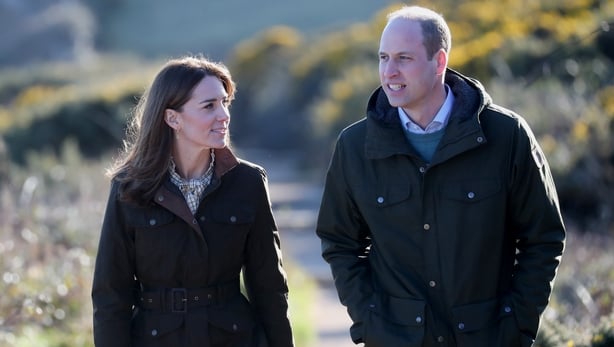 They also met Minister for Environment, Richard Bruton, Paul Connolly, Chief Executive of the Marine Institute, and Eimear Manning, youth ambassador with the Marine Institute.
The State agency is responsible for marine research and innovation.
It provides scientific and technical advice to the government to inform policy and support the sustainable development of the country's marine resources.
The royal coupe also met local Cllr Eoghan O'Brien, the Mayor of Fingal County Council, and its CEO, Ann Marie Farrelly.
'Fancy meeting you up here!' Prince William tells the waiting media as he takes an afternoon stroll in Howth with his wife Kate #RoyalVisitIreland #rtenews pic.twitter.com/hsKO3NdheK

— SharonGaffney (@Sharon_Gaffney) March 4, 2020
Kensington Palace says conservation work and efforts to protect the natural environment have been key priorities for the Duke of Cambridge.
He has publicly supported several conservation initiatives and environmental education programmes.
The Duke also founded 'United for Wildlife', a collaboration between seven international conservation organisations.
This morning, several hundred people gathered to greet the couple as they arrived at Jigsaw's facility in Temple Bar.
The crowd cheered as the couple waved before entering the building, where they met young people who are supported by Jigsaw services.
They also spoke to campaigners, teachers and parents about the impact of Jigsaw's work.
In conversation with community campaigners, teachers, parents and coaches on the impact of @JigsawYMH — which provides vital support to young people across a range of one-to-one, community, school and online services #RoyalVisitIreland pic.twitter.com/Ml4LgwjB74

— Kensington Palace (@KensingtonRoyal) March 4, 2020
The couple's Royal Foundation supports Heads Together, a UK charity helping people struggling with mental health issues.
After visiting the centre, they viewed street art on Love Lane, the alleyway adjacent to Jigsaw.
This afternoon, the royal couple travelled to a residential facility run by Extern in Kildare, a social justice charity that supports people living with homelessness and children at risk of entry into the care or justice system.
Extern operates across Ireland and Northern Ireland.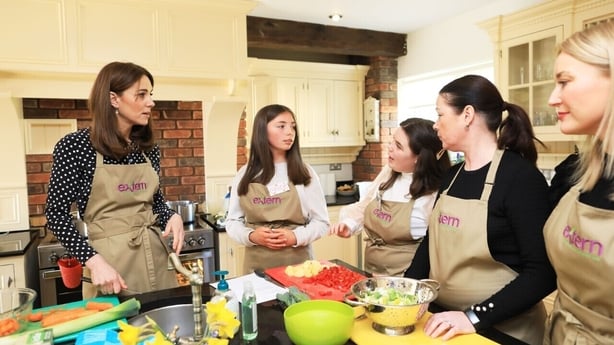 The facility provides a safe space to support vulnerable young people and families who are going through challenging times.
It places a particular emphasis on equipping young people with key life skills through a range of activities on offer.
During the visit, the royal couple joined in a number of the activities and heard from young people about the support Extern provides.
The Duke and Duchess of Cambridge look at the Derrypatrick Herd at the Teagasc Animal Bioscience Research centre in Co Meath. pic.twitter.com/SEPFb0UzHg

— Sinéad Hussey (@SineadHus) March 4, 2020
From there, they travelled to the Teagasc Animal Bioscience Research Centre in Dunsany in Co Meath.
They met farmers and heard about pioneering research to promote sustainable farming across Ireland.
The couple were welcomed by Minister for Agriculture Michael Creed and Chairman of Teagasc Liam Herhily.
Beef researchers at Teagasc Paul Crossan and Edward O'Riordan showed the couple the Derrypatrick demonstration suckler herd.
They were told about steps being taken to ensure beef is produced in an environmentally sustainable way.
The royal couple were also told about technologies that have been developed and adopted to reduce greenhouse gas emissions from the herd.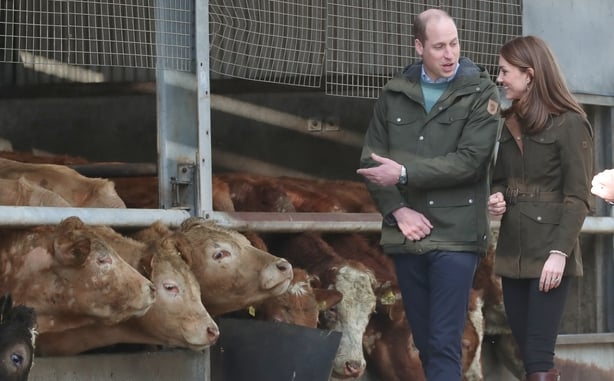 Teagasc's countryside management specialist Catherine Keena spoke to the couple about the initiatives on farms around the country to promote biodiversity.
Local primary school children from Kiltale National School also got to meet the royal couple.
The students had completed projects on the environment, nutrition and food production and spoke to the royal couple about what they had learned.
They had set up a display of their projects with local GAA jerseys and hurleys placed on bales of hay.
Ten-year-old Michael Kane said it was brilliant to meet "an actual prince and princess".
"They were very nice to all us, they were lovely," he said.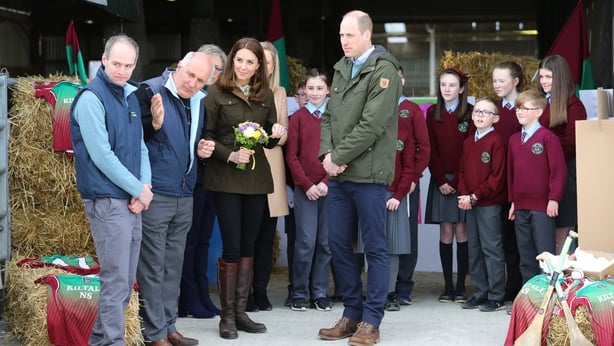 Rachel Mulligan, 12, said she told the couple that Irish people can be very proud of their cattle because they are grass-fed and they do not spend all of their time in sheds.
She said the Duke of Cambridge told the children they should spend more time outdoors and get lots of sleep.
Rachel said the couple also told her that they want to return to Ireland with their three children on holiday.
The students presented the Duchess with a bouquet of flowers before the couple departed. The visit lasted 40 minutes.
We need your consent to load this rte-player contentWe use rte-player to manage extra content that can set cookies on your device and collect data about your activity. Please review their details and accept them to load the content.Manage Preferences
---
In pictures: Royal visit Day One | Day Two
---
Yesterday, the couple met President Michael D Higgins and Taoiseach Leo Varadkar.
After meeting President Higgins and his wife Sabina, they rang the Peace Bell in the grounds of Áras an Uachtaráin.
The bell was unveiled in 2008 to mark the tenth anniversary of the peace process.
Afterwards, the royal couple travelled to Dublin city centre to take part in a wreath-laying ceremony at the Garden of Remembrance.
Last night, the duke and duchess attended a reception in the Guinness Storehouse in Dublin, the final engagement on their first day visiting Ireland.
Tomorrow, the royal couple will visit Co Galway before returning to the UK.
?? "It is not often that I find myself following The Queen @RoyalFamily to a pub!" — The Duke of Cambridge #RoyalVisitIreland pic.twitter.com/Lg1jfWhzAi

— Kensington Palace (@KensingtonRoyal) March 3, 2020
Reporting by Sinéad Hussey and Sharon Gaffney