Local authorities are continuing to monitor weather activity in the wake of Storm Jorge, with all land-related weather alerts now lifted.
A Status Yellow marine warning remains in place, as well as a small craft warning, but the Orange alert for Clare, much of Connacht and Donegal expired at midnight.
Thousands of homes and businesses were hit by power outages during yesterday's storm, mainly in counties Clare, Kerry, Cork, Tipperary, Galway, Kildare, Meath, and Wexford, but the vast majority were due to be reconnected by last night or this morning.
ESB and local authority crews remain on standby to respond to any further events.
Storm Jorge caused flooding in several areas this weekend with south Galway one of the worst areas affected pic.twitter.com/EWiMSzYyKO

— RTÉ News (@rtenews) March 1, 2020
The National Emergency Coordination Group met this morning and said there were no major reported incidents or injuries to members of the public or emergency services.
It said there was also very little damage or destruction of property as a result of the storm, although flooding continues to affect many areas after a prolonged period of heavy rainfall.
Coastal areas, particularly along the western seaboard, remain prone to strong gusts of wind and the Coast Guard has urged people to stay away from exposed areas while high winds remain active.
South Galway was one of the worst affected areas by Storm Jorge in the west of Ireland.
Farmers and business owners continue to assess the full extent of the flood damage today.
Relentless rain between the areas of Ardrahan and Gort in the county have led once again to severe flooding.
Cattle have been raised to higher ground and frustration mounts that there are no mitigating flood relief measures in sight.
IFA President, Tim Cullinan, visited farmers today to see the extent of the flood damage.
He described the scenes as devastating and despite numerous proposals over the years, he said nothing had been done.
Mr Cullinan said he was going to make flood-relief measures a political priority going forward.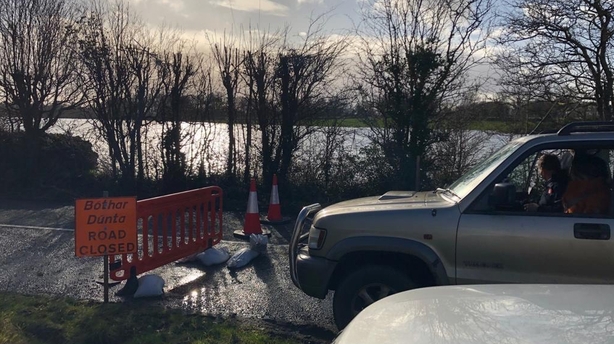 Meanwhile business owners in Gort (above) are facing difficulties with impassable roads. Many are concerned that their premises will be unable to open. The full extent of the flood damage will become evident over the coming days.
In Clare, residents of Springfield outside Clonlara are still on alert because of flood waters from the Shannon, which have had them fighting to stay in their homes for the last week.
Teams from the Civil Defence and Clare County Council, as well as members of the Defence Forces, have been helping the residents to get to and from their homes, as well as ensuring they have enough fuel and other supplies.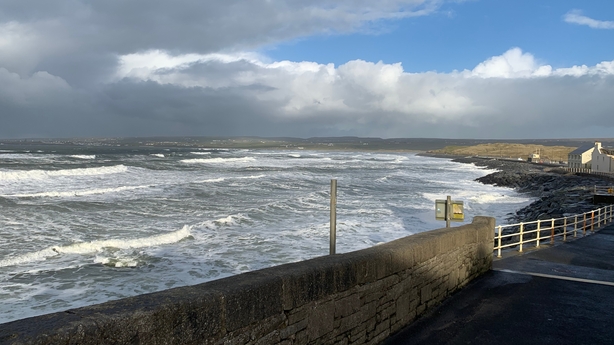 Floodwaters in Springfield fell overnight on Friday into yesterday morning, but the council said they did rise slightly again last night.
Flooding in that area is affected by the level of water coming through the Parteen Weir and diverted to Ardnacrusha power station by the ESB.
Clare County Council said this afternoon that the ESB will not be increasing the flow of water at Parteen Weir above the current level of 400 cubic metres per second, but it is likely to be weeks before the existing flooding on the road outside homes in Springfield will be fully gone.
In west Cork, the Dursey cable car has resumed operations after it was cancelled yesterday due to high winds.
There were no major issues across Co Cork as a result of the weather but council staff are continuing to monitor river and coastal water levels.
"Emergency crews remain on standby and there is no expectation that forecast rainfall will cause any significant issues," a council spokeswoman said.
There was no flooding either in Kerry overnight.
Two minor roads were blocked because of fallen trees but were quickly dealt with by council staff.
Additional reporting: Teresa Mannion