People are being advised to follow advice issued by the Health Service Executive and the Health Protection Surveillance Centre, following an identified coronavirus case in Northern Ireland. 
Northern Ireland's Public Health Agency has said that the patient is receiving specialist care, and they are working rapidly to identify any contacts the patient had.
In a statement, Minister for Health Simon Harris has said that the first case of the coronavirus was not unexpected and that the "general public should continue to adhere to the public health protocols".
The Chief Medical Officer with the Department of Health has said the news of an identified coronavirus case will not change the department's procedures in addressing the virus in the Republic.
Dr Tony Holohan told RTÉ News that procedures have been in place to deal with it for a number of months.
On people who may have concerns who were on board the flight with the infected person, Dr Holohan said the HSE will be making contact with anyone who has been identified to have been sitting within two rows of the infected person.
He said infection prevention and control procedures have worked well and has prevented transmission to other people.
Dr Holohan said the infected individual clearly followed the advice given and came forward to say they had symptoms and gave authorites the chance to identify it.
He said the case does not give them any reason to believe they need to do anything further or different.
On whether the individual travelled on public transport, Dr Holohan said if that information was relevant to the case, then it would be provided to the relevant authorities, and would form part of the contact tracing process.
WATCH: Interview with Dr Tony Holohan, Chief Medical Officer at the Department of Health, after a case of coronavirus is confirmed in Northern Ireland| Read more: https://t.co/rId8BhJUPh https://t.co/J8lP794Z56

— RTÉ News (@rtenews) February 27, 2020
Dr Tony Holohan, Chief Medical Officer with the Dept of Health discusses whether the health service has the resources and capacity to deal with the potential spread of Coronavirus in Ireland #RTEPT | #Coronavirus | #COVID19US | #Coronavirusireland | @MiriamOCal | @CMOIreland pic.twitter.com/EPVkmrTTVR

— RTÉ Prime Time (@RTE_PrimeTime) February 27, 2020
Earlier, the Chief Executive of the HSE said he can reassure the public that the actions taken to date on the virus here have been successful.
Paul Reid said that if Ireland sees its first cases, the HSE would look at increasing the surge capacity in the system.
He said the HSE was still in the containment phase and about prevention.
Mr Reid said that what had happened in Europe was moving things towards a higher risk phase.
He urged the public to continue making themselves aware of the advice on prevention measures available on the HSE website.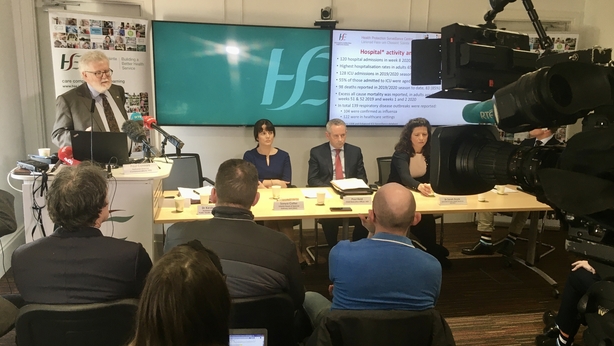 Mr Reid said that the HSE has acted early to ensure adequate stocks of protective and other materials for Covid-19.
He said 700,000 gowns had been purchased, four million gloves, 1.5 million surgical masks and 13,500 personal protective equipment packs for GPs, out of hours services and health clinics.
Earlier, a professor of microbiology at Trinity College Dublin said there is no need to panic but preparations should be made for Covid-19 and consideration given as to how the impact can be lessened as much as possible.
Dr Kim Roberts told RTÉ's Morning Ireland that the virus is becoming more difficult to contain, pointing out that there has been an increase in the number of cases in different countries over the last number of days.
Dr Roberts said there is a hope that the coronavirus has peaked in China.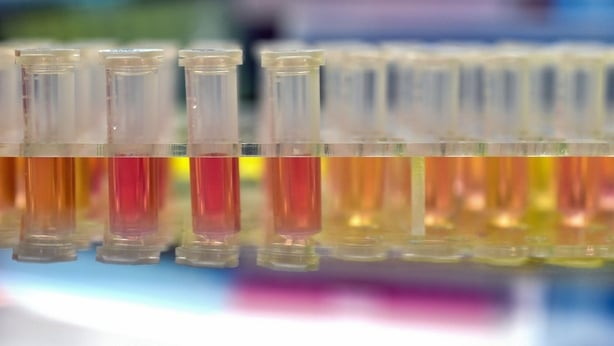 She added that limiting events where large crowds can gather is important to slow the transmission of the virus because it transmits through close contact with people.
Dr Roberts said advice for people who have the symptoms to self-isolate is important and makes sense.
She said it was important to follow the guidelines and wash hands for at least 20 seconds, which is about the same length of time it takes to sing 'Happy Birthday' twice.
We need your consent to load this rte-player contentWe use rte-player to manage extra content that can set cookies on your device and collect data about your activity. Please review their details and accept them to load the content.Manage Preferences
Meanwhile, the CEO of Cystic Fibrosis Ireland has said that the Government is not working closely enough with 'at-risk' groups such as themselves in relation to the coronavirus.
Philip Watt said that while the Government is doing some things right and the information on their websites are excellent, they were not giving enough specific information to people with CF and other lung diseases.
He said that their patients have chronic respiratory problems which affect their lungs, and are obviously very worried about the virus coming to Ireland.
Mr Watt said more specific and tailored advice needs to be given to people who have conditions like COPD and cystic fibrosis.
He said it was disappointing that nobody from the Department of Health has been in contact with CF Ireland so far. He said they have written to them asking for a liaison officer from the department to be appointed to work with them.
Mr Watt said they would like to be as prepared as possible and to be able to issue advice to patients before the virus comes to Ireland rather than afterwards.
Advice for people returning from affected areas
People who have returned from areas affected by coronavirus and who have symptoms of coronavirus - fever, cough or difficulty breathing - are advised to phone their GP or local emergency department immediately.
The Health Service Executive says they should not go to their GP or to an emergency department.
They should avoid contact with other people by self-isolating.
Those who do feel well having returned from affected areas should follow the advice on how to protect themselves from coronavirus.
The affected areas are: China, Hong Kong, Singapore, South Korea, Iran and Japan, as well as the Lombardy, Veneto, Emilia-Romagna and Piedmont areas of Italy.
The Department of Foreign Affairs has asked anyone who may have been in contact with a person who has COVID-19, or who has been to areas affected, to contact HSE Live on 1850 24 1850.
Anyone who has specific concerns regarding Irish citizens in any affected areas can contact the Department of Foreign Affairs on 01 613 1733.
---
Read more:
Scramble to contain coronavirus as infections spread
First coronavirus case reported in Denmark
What is the Covid-19 coronavirus?
Coronavirus: Latest advice as cases rise abroad
---
Podcast on coronavirus?
We know that many of you have questions about coronavirus and we want to try and answer them.
So here's what we want you to do: If you have a question about the Covid-19 Coronavirus, email it to coronavirus@rte.ie
We will assemble a panel of experts and put your questions directly to them.
Then we will bring you the answers in the form of a podcast next week.
We hope we will be able to address as many of your concerns as possible.
---
Additional reporting Helen Donohoe