Flooding in parts of the country is likely to worsen over the coming days, the Minister of State for the Office of Public Works has warned.
Speaking on RTÉ's Morning Ireland, Kevin 'Boxer' Moran said with more rain forecast for the weekend, the situation is expected to remain challenging.
"There's talk of more rain on Saturday, that's what we're all preparing for," he said.
"While we do look to get the urban areas under control, there's talk of bringing in the army to help people in rural areas."
A Status Yellow snow and ice warning is in place for the entire country with wintry showers, mainly of hail and sleet, becoming widespread during the day.
The warning will remain in effect until 9am tomorrow.
Water continued to rise overnight in Clonlara, Clare. Too deep now for tractors that were able to move around yesterday. One farmer up early to milk cows, despite late night with one cow calving. Yard surrounded by water. Likely newborn & rest of herd will have to evacuate today pic.twitter.com/a8ZfttDs6m

— Tommy Meskill (@TommyMeskill) February 25, 2020
Mr Moran said that when the "media frenzy" dies down and the heavy rain eases off, those affected will still be dealing with the situation for several more weeks.
John Nolan, a farmer in Gort, Co Galway, said water levels on parts of his land rose about 15cm overnight.
Speaking on the same programme, he said his immediate concern was his 50 cattle, which were being housed in a shed.
"The flood is creeping closer to those sheds," he said.
"If the water levels rise another foot, the sheds get flooded and the cattle will have to be moved. It's risen six inches (15cm) since yesterday."
John Hardiman said this is the third time his home in Castleconnell in Limerick has been hit by floods.
The River Shannon is normally about 100m away from his house, but as of this morning it was just 3m away.
He said: "The council has given us sandbags and a pump.
"Our expectation is that the water will go up between now and the weekend. The last two times there were floods, we built a moat around our house with sandbags."
Tom Cleary, a horse trainer in Athlone, said four of his stables have been affected by the water.
He said the stables can be saved by using sandbags and pumps, but he has not been provided with any.
"There's not a lot we can do at this stage but move the animals. Some good people have offered their stables, but it's inconvenient to move them and look after them while they're away."
Members of the Defence Forces are assisting with the flood defence campaing in Castleconnell in Co Limerick.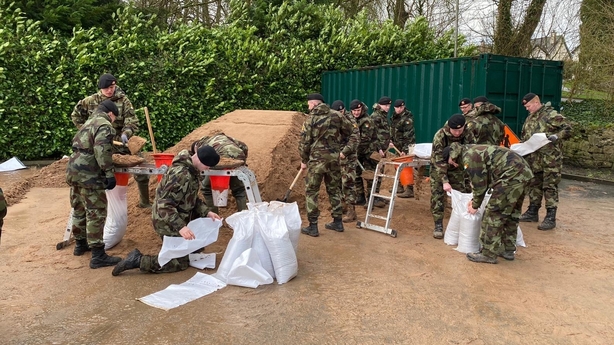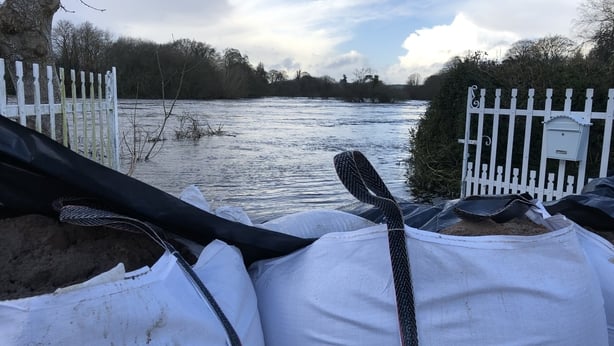 Meanwhile, Iarnród Éireann has said bus transfers will operate on the Limerick to Galway line because of flooding at Kiltartan in Galway.
It said the water levels have risen above the rail line and the transfers will remain in place for a number of days.
Water levels at Kiltartan are expected to rise overnight, as a precaution the 05:55 Limerick/Galway and 06:15 Galway/Limerick will operate as bus transfers on 25/02/2019. A decision will be made regarding the second services in the morning. -AD pic.twitter.com/gNEzkhEu3x

— Iarnród Éireann (@IrishRail) February 24, 2020
Westmeath County Council says it has activated its Flood Emergency Response Plan as water levels in the River Shannon continues to rise slowly.
In a statement it said forecasts predict that water levels in Athlone will continue to rise up to this Friday, with the highest predicted level around 20cm above current levels.
Following a meeting of its Inter-agency Response Committee this morning, the council says it will continue to "protect public infrastructure, assist people to protect their homes and businesses, and to provide other humanitarian assistance".
It also says that major issues remain for farmers and people in rural areas, and that assistance is being provided and will be widened "as the need arises in terms of transport and other services over the coming days".
Flooding latest . pic.twitter.com/XNmfpNk0nr

— Ciaran Mullooly (@ciaranmullooly) February 25, 2020
Leitrim County Council says that its Emergency Management Team continues to meet on a daily basis "while the current situation with regard to flooding and high water levels on the River Shannon exists".
A statement issued this afternoon says that while rainfall levels yesterday were significantly lower than previous days, and there is less rainfall forecast over the coming days, monitoring of the water level and assessing the situation continues.
The council says it remains in contact and continues to work with communities and individuals that are vulnerable to flooding, providing sandbags and other resources as appropriate.
Pumping of flood waters is being carried out with good effect in Leitrim Village and Carrick-on-Shannon according to the council, which has said the work is reducing flood waters in strategic locations in both areas.
It continues to advise road users that there is partial flooding on some roads in the Carrick-on-Shannon and Leitrim village areas, but they are passable with due care and attention.
The council is also recommending to property owners in areas subject to flooding to continue to monitor the situation and to help older or vulnerable neighbours to protect their property if they are in a location vulnerable to flooding.