Sinn Féin leader Mary Lou McDonald has said the IRA has gone away and nobody directs the party other than its members and leadership.
She was responding to comments by Garda Commisioner Drew Harris, who said that An Garda Síochána does not differ from the view of the PSNI that the provisonal army council oversees both Sinn Féin and the IRA.
Asked if the IRA still exists even as political organisation, Ms McDonald said: "No it does not, so far as I am aware, no it does not.
"The IRA have gone away. The IRA will not be returning. The days of conflict are past."
Speaking at an event for Northern Ireland MLAs in Dundalk, she said: "I don't answer for the IRA, I'm not a spokesperson for the IRA.
"I'm the leader of Sinn Féin and I'm telling you the war is over."
Earlier, speaking at a graduation ceremony of new recruits in Templemore, Commissioner Harris said: "In national security matters and matters around the State, it is my obligation to report to the government as you would expect me to do.
"Also, we have been contributing to the IRC (Independent Reporting Commission) reporting on the status of various paramilitary groups and we would hold with their opinion on these matters.
"I am also aware of the PSNI and the British security services assessment and we do not differ from that view."
We need your consent to load this rte-player contentWe use rte-player to manage extra content that can set cookies on your device and collect data about your activity. Please review their details and accept them to load the content.Manage Preferences
Asked if he would have concerns about Sinn Féin in government, Commissioner Harris said he was a public servant and would work with whatever government is put in place.
"I have heavy responsibilities in terms of protecting the people of Ireland in preventing and detecting crime and we will work with whatever minister to achieve those aims," he said.
In 2015, Northern Ireland's senior police officer said that the Provisional IRA still existed but was not on a war footing.
PSNI Chief Constable George Hamilton said some structures had changed, some had been dissolved but those remaining were not being used for terrorism.
Mr Hamilton said at the time: "They are not on a war footing, they are not involved in paramilitary activity in the sense that they were during part of the conflict."
In 2018, Mr Hamilton told the BBC that while "aspects of the (Provisional) IRA still exist", it was "not for a terrorist purpose".
---
Read more
2015 assessment of NI paramilitary groups
---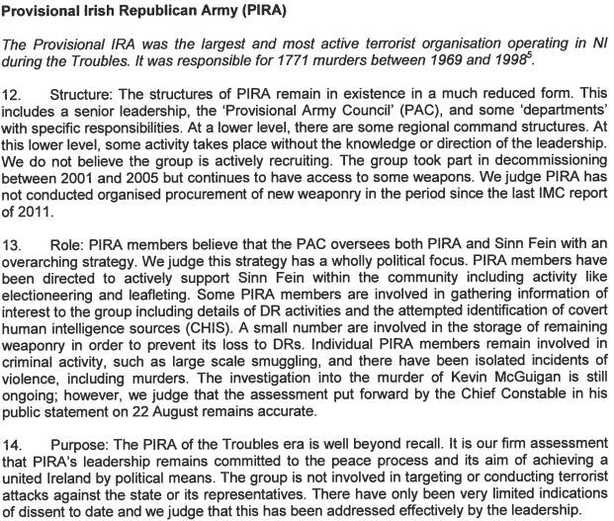 Asked today if there is a provisional army council, Ms McDonald said: "No. I mean I've no contact or relationship with the IRA".
She described Sinn Féin as an open, growing and democratic organisation and as "a grassroots organisation the membership is in the driving seat".
"Nobody directs Sinn Féin other than Sinn Féin members and the Sinn Féin leadership," she said.
"I'm the leader of Sinn Féin, I know who runs Sinn Féin. Republicans are absolutely wedded to democracy and peace."
Responding to Commissioner Harris' assessment, Taoiseach Leo Varadkar asked why Ms McDonald does not disband the army council and the IRA or sever all links with them.
He tweeted: "Why doesn't McDonald disband the Army Council and the PIRA or if she cannot, repudiate them and sever all links and do so publicly and unequivocally?"
Asked about the Taoiseach's remarks, Ms McDonald said the timing of the remarks coming a day after he lost a vote in the Dáil to be Taoiseach was very telling.
In response to Commissioner Harris' comments, Fianna Fáil leader Micheál Martin tweeted: "No matter how hard Sinn Féin representatives try to spin in the media, and no matter how aggressively their trolls try to bully critics on social media, the inconvenient truth keeps popping up.
"These are real issues that aren't going away."
---
Northern Editor Tommie Gorman discusses Drew Harris' comments on RTÉ's News at One
We need your consent to load this rte-player contentWe use rte-player to manage extra content that can set cookies on your device and collect data about your activity. Please review their details and accept them to load the content.Manage Preferences