Workers have picketed at the gates of one of Northern Ireland's largest bakeries during strike action intended to disrupt Pancake Tuesday.
A Kingsmill bread lorry stopped at the entrance to the Allied Bakeries site in east Belfast and police were involved in mediating with trade unionists.
Pancake Tuesday is on Tuesday 25 February, but this is the key week of production.
The factory makes products such as Kingsmill bread.
Unite the Union regional co-ordinating officer Susan Fitzgerald said: "There will be no Pancake Tuesday celebrated in Northern Ireland and we hope to affect it elsewhere as well.
"During this picket we will be sending people to stand outside supermarkets leafleting, saying that other working people, in solidarity with Allied Bakery workers, should boycott Sunblest, Kingsmill and the other products that come out of here.
"That includes a favourite unfortunately, pancakes, which are going to be in demand next week.
"We intend to disrupt that as much as we possibly can because we have no option.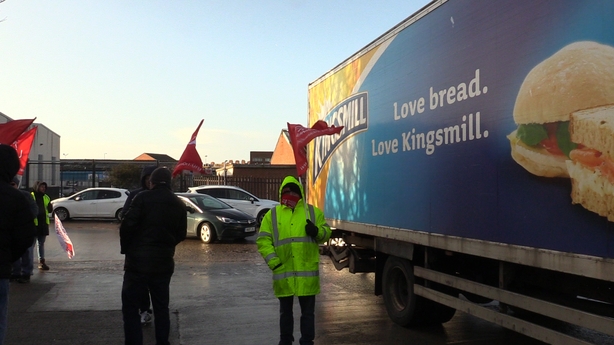 "When working people are forced to go to this length for a fair pay increase, when this company pay out millions in bonuses to directors, we feel we are (getting) the support of ordinary people right across Northern Ireland and further afield."
The BBC reported that talks between the parties broke down on Friday.
The company has said it is proud of its reputation "as a long-term and stable employer in the community" and it was disappointed about the industrial action.
Pancake production in Northern Ireland has been disrupted just over a week ahead of Pancake Tuesday. Workers at Allied Bakeries are striking over a pay dispute pic.twitter.com/lg5nTdc5xw

— Gail Conway (@gailconwaymedia) February 16, 2020
It added: "All those involved within this ballot are paid at rates above the Living Wage Foundation's recommended UK hourly rate and provided with a range of in-work benefits, including life insurance and pension provision."
Allied Bakeries is part of Associated British Foods, a multinational company that owns a series of brands, including clothes retailer Primark, and posted profits of around £1.4bn last year.