Tens of thousands of early childcare providers, educators, and parents took part in a protest in Dublin city centre calling for greater government investments in the sector.
Demonstrators called on the next government to increase funding in order to reduce fees for parents, increase pay for educators and support the sustainability of services, which they say are in crisis.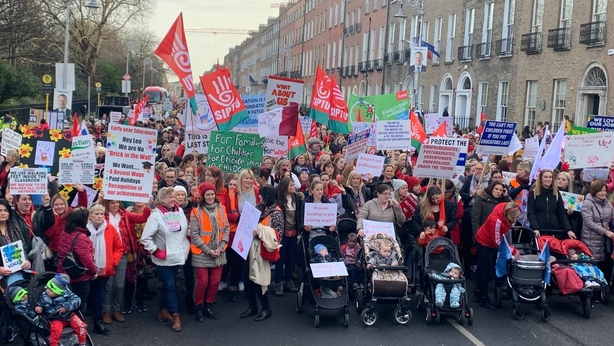 Chairperson of the Association of Childhood Professionals Marian Quinn said: "We are at breaking point and can't continue subsidising the true cost of early childhood education and care by virtue of our low wages.
"We have to be able to afford our own lives. The government has to accept their responsibility and radically change the funding model for this public service."
SIPTU Head of Strategic Organising and Campaigns Darragh O'Connor described the current situation as "a real crisis in childcare".
"More than 60% of educators earn less than the living wage of €12.30 per hour and parents are paying some of the highest fees in Europe," Mr O'Connor added.
Protesters are demanding the doubling of funding for services, the introduction of a living wage of €12.30 per hour for early years educators, and a new improved funding model.
They also want the current system of inspections, which are carried out by four separate bodies, to be replaced by one streamlined body, and for compliance to be graded.
They say they want to be involved in designing a new approach to childcare. 
Organisers say 1,800 of around 4,200 early childcare service providers registered to take part in the protest.
It was organised by Together for Early Years, an umbrella group of the Association of Childhood Professionals, the Federation of Early Childhood Providers, the National Community Childcare Forum, the National Childhood Network, Seas Suas and SIPTU.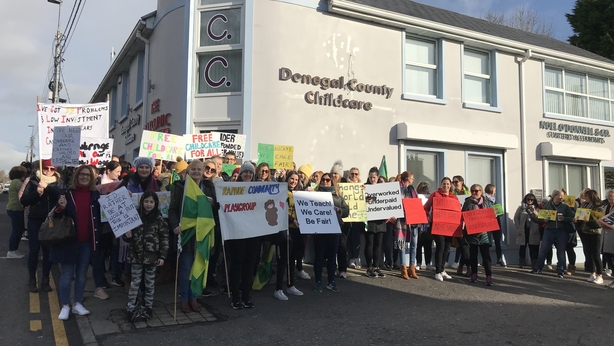 Separately, up to 150 childcare providers, staff and parents have taken part in a protest in Letterkenny, Co Donegal.
The protest calling for greater investment in early years childcare services was held outside the Donegal County Childcare Committee offices in the town to coincide with the national protest in Dublin.
People, the vast majority women, who could not travel to Dublin, made their position clear in calling for funding for private and community childcare services that they say are vital, but in danger of closing down from lack of State support.
Dept responds to protesters' concerns
The Department of Children and Youth Affairs has said that State funding of the early learning and school age care sector has increased by 141% in the last five years.
On the issue of pay, a department spokesperson said that as childcare professionals are not employed by the State, it could not determine their pay.
However, according to the statement, the Minister for Children and Youth Affairs encourages staff to join a trade union as this is the only way to directly influence how much they are paid.
In terms of streamlining inspection procedures, the department said the safety of children is a key priority and stronger regulation has been called for.
It said the department is continuing to work with Tusla (the statutory regulator for the childcare sector) and the Department of Education and Skills' Early Years Inspectorate to consider ways in which they can further streamline their work.
It said an expert group was established in September 2019 to make recommendations with regard to the establishment of a new funding model for the early learning and care sector and the department is consulting widely on this issue.