President Michael D Higgins has said it is ''deeply worrying'' to witness the rise of extremist language and politics in Europe.
Mr Higgins was speaking at the annual Holocaust Memorial Day ceremony at the Mansion House in Dublin.
Tributes were paid to the late Holocaust survivor Jan Kaminski at the ceremony. Mr Kaminski passed away in Dublin in May 2019 at the age of 87.
As a ten-year-old boy he escaped a round-up of Jews in his native Poland and fled into the forests. Jan survived but his entire family died in a death camp.
Mr Kaminski spent the duration of World War II on the run. He arrived in Ireland in 1954 with a scholarship to study economics and politics at Trinity College in Dublin.
Ireland's last two Holocaust survivors played a central role at the commemoration on the 75th anniversary of the liberation of Auschwitz.
Campaigners Tomi Reichental and Suzi Diamond will recount their personal stories about surviving the Nazi regime as young children.
President Higgins said: ''We in Ireland had been fortunate that such extremism has not gained significant support at a time when many countries in Europe and elsewhere have seen the rise of a far-right.''
However, the President warned that despite the economic recovery ''an ugly anti-migrant sentiment is attempting to rear its head in Ireland.''
Mr Higgins said this ''misused nationalism and populism'' are a reminder of just how fragile democracy is.
President Higgins will travel to Auschwitz-Bireknau tomorrow to mark the 75th anniversary of the liberation of the camp.
The Chair of Holocaust Education Trust Ireland, Eibhlin Byrne, said "It becomes even more important to educate generations now living, and those to come, about the inhumanity which man can inflict on man when all that is decent and all that is good is lost.''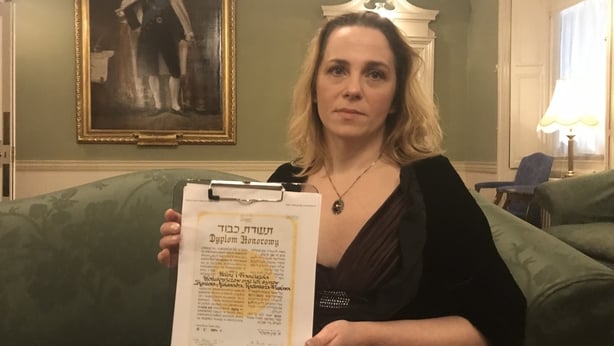 This years ceremony was also attended by Kinga Paszko, who was born in Poland, but is now based in Co Dublin.
Her great grandparents took a huge personal risk when they agreed to shelter a Jewish family between 1943 and 1944.
The Holubowicz family were recognised as Righteous Among the Nations in 1993 for their bravery and compassion. The award honours non-Jewish individuals for risking their lives to aid Jews during the Holocaust.
The Director of Holocaust Education Trust Ireland, Heino Schonfeld, said: "Through our work, we will deliver on our pledge never to forget and always to remember."