Eoghan Murphy has said he wants to stay on as Minister for Housing if Fine Gael is returned to Government.
At a press conference on his party's proposals on housing, he said he has brought in some important reforms, including a thirty per cent increase in funding for social housing.
"I'd like the opportunity to continue," he said.
Minister @MurphyEoghan says he wants to stay on as Housing Minister if FG is returned to Gov. He says he has made important reforms over the past few years including increasing funding for social housing. "'I'd like the opportunity to continue." #GE2020 https://t.co/sKKTpK5DKv

— Mary Regan (@MaryERegan) January 17, 2020
Fine Gael is promising to provide 60,000 more social housing units over the next five years, if returned to Government.
Minister Murphy said 10,000 social houses came on stream last year. He said this was the highest number ever provided in a single year.
The party has also proposed a "social housing passport" which will allow people on local authority housing waiting lists to switch to another area.
Political leaders are spending the third day of the campaign for Election 2020 in Dublin and around Leinster unveiling initiatives to address housing, the health service and crime.
Fine Gael leader Leo Varadkar is in Co Offaly visiting a newly-expanded business and then canvass in Birr.
Fianna Fáil leader Michéal Martin has been campaigning in Arklow in Co Wicklow, before going to New Ross in Co Wexford, while in Dublin, Jim O'Callaghan has been focusing on solutions to crime.
Time to clamp down on criminal gangs says @MichealMartinTD says regional drugs units need to be expanded to deal with issues like those in Drogheda #GE2020 pic.twitter.com/NptY1FNKMY

— Fran McNulty (@franmcnulty) January 17, 2020
Mr O'Callaghan said the evidence of senior gardaí should be given greater weight in legislation as part of efforts to tackle gangland crime.
He said in the last nine years there has been no major piece of legislation passed to address the problem.
Mr O'Callaghan said he wants the belief of a Chief Superintendent, that someone is involved gangland crime, to be regarded as admissible evidence.
This, he said, would overcome the issue of witnesses being too frightened to give evidence in these cases.
Mr O'Callaghan believes the constitution is flexible to allow for this legislation but a referendum could also be held if it was required.
---
Read more: Election 2020
---
Sinn Féin leader Mary Lou McDonald has said that her party wants to establish a national health system, which is something she said that would require "concerted action and determination over more than one term in government."
Speaking to journalists in Bray in Co Wicklow alongside local party candidate John Brady, Mrs McDonald said that the party was also putting forward more short term proposals to deal with the trolley crisis, to open more beds, to end the embargo on recruitment of staff and to provide capacity in terms of home help hours.
She said that the capacity and resources were big issues, and while Simon Harris and Leo Varadkar told them that the problems in the health service were not about capacity or beds, those working on the front line told a different story.
Campaigning in Drogheda today, the labour leader described the murder of Keane Mulready Woods as 'domestic terrorism' and a shocking and barbaric act.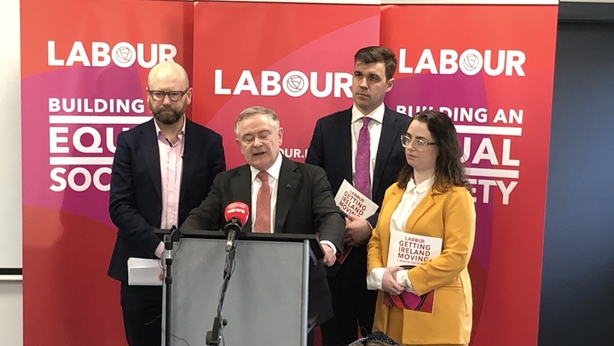 Brendan Howlin also said the criminal gangs responsible for the ongoing violence need to be smashed in the same way the ones in limerick were.
The labour leader @BrendanHowlin , in Drogheda, has described the murder of Keane Mulready Woods as 'domestic terrorism', and says the criminal gangs have to smashed in the same way they were in Limerick. #GE2020 pic.twitter.com/Qx3nODFfCL

— Conor Hunt (@conorfhunt) January 17, 2020
He said the gangs were assaulting the integrity of the community and said a variety of state agencies needed to come together to tackle them.
Party colleague, Ged Nash who's running in the Louth constituency, said the violence needs to end and echoed his leader's comments that a multi agency approach was needed.
They were speaking at an enterprise centre in the town where the party was launching its plan to improve the lives of people living in commuter towns.
Called 'Getting Ireland Moving' , the plan calls for more foreign direct investment in places Drogheda, Meath, Fingal, Kildare and Wicklow
It's also calling for better transport links to cut down on long commutes.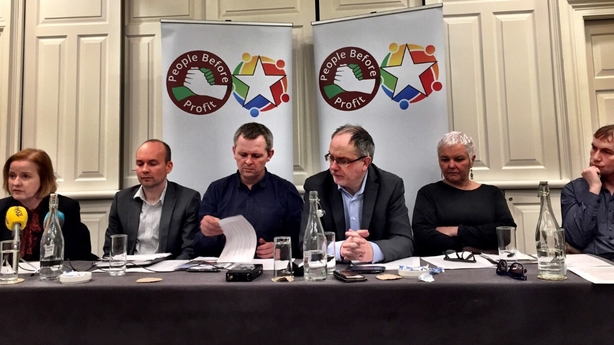 Solidarity-PBP held its official campaign launch in Dublin where they outlined key health priorities and proposed solutions.
Candidate Bríd Smith said the group would lead the fight onto the street against forcing people to work beyond the age of 65.
Speaking at the grouping's campaign launch, Ms Smith said denying people their pension is another measure of austerity.
She said the fact that people were tending to live longer was something to be celebrated, not something to moan about.
Ruth Coppinger said the issue of drug related crime could not be dealt with as a Garda issue. She said it was a health issue that must be dealt with by adequately funding treatment services.
Ms Coppinger said addiction was an issue that crossed social divides but the problems end up being heaped on working class communities.
Asked about recreational drug taking, she said the idea that somebody was enabling crime by 'smoking hash on a Saturday night' was ridiculous.
She said the problem was one of drug abuse that was social and class-based.
Crime was also the topic of conversation as the Green Party launched their policy on air quality.
Candidate for Dublin South Central, Roderic O'Gorman, said crime is emerging as an issue on doorsteps in the election.
Mr O'Gorman said there was a feeing among voters that the Gardaí are over-stretched and that the connection between Gardaí and the community had been broken in recent years.
Moving back towards a model of community policing was the way to address that, he said, adding that the service must be adequately resourced.
He described the killing of Keane Mulready-Woods as absolutely shocking.
Aontú leader Peadar Tóibín has said the party is aiming to go into government after the election.
He said the party was running 25 candidates but aiming for four or five seats.
Asked about his red lines, he said the government had to stop ignoring rural Ireland.
Mr Tóibín accused Leo Varadkar of having what he called 'M50 vision.'
He said the country was divided with an over-heating capital and sprawling commuter belt reaching into all provinces on the one hand, and a rural area that's being depopulated of its young people on the other.
Peadar Tóibín said the party was getting support from traditional Fianna Fáil and Sinn Féin voters as well as voters from other party backgrounds.
Having left Sinn Féin over the party's stance on abortion, he said he knew that it was a decision of the people that was not going to be reversed.
He said the party would seek to invest to help families so that mothers and fathers could have the economic confidence to raise their children to their full potential.
Peadar Tóibín was speaking at a gathering to remember those who fought in the War of Independence.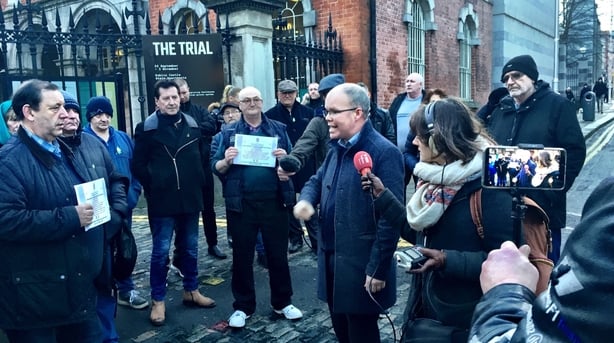 The event was originally scheduled to be a protest against a commemoration for members of the RIC and Dublin Metropolitan Police which had been due to take place at Dublin castle.
He said many people had been 'phenomenally angered' at Charlie Flanagan's decision to commemorate the RIC and Black and Tans given the destruction that they visited on the country.
Additional reporting Micheál Lehane, Mary Regan, Brian Finn, Laura Fletcher, Conor Hunt