The Sightseers
My father and mother, my brother and sister
and I, with uncle Pat, our dour best-loved uncle,
had set out that Sunday afternoon in July
in his broken-down Ford
not to visit some graveyard - one died of shingles,
one of fever, another's knees turned to jelly -
but the brand-new roundabout at Ballygawley,
the first in mid-Ulster.
Uncle Pat was telling us how the B-Specials
had stopped him one night somewhere near Ballygawley
and smashed his bicycle

and made him sing the Sash and curse the Pope of Rome.
They held a pistol so hard against his forehead
here was still the mark of an O when he got home.
Once you've read Paul Muldoon's poem, 'The Sightseers' or heard him recite it, it never leaves you.
It captures and explains Northern Ireland.
Several times a week for the past three years Arlene Foster has passed the Ballygawley roundabout, referred to in the Muldoon poem, travelling to and from Belfast from her home in Co Fermanagh. A party leader without a full-time job. A could be/should be First Minister in what some would say in self-imposed exile from the position.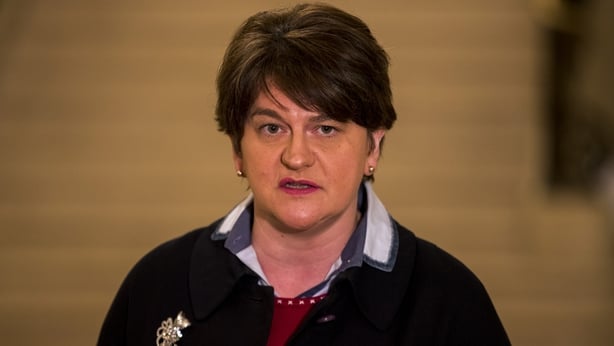 She was a minister in the Peter Robinson/Martin McGuinness led power-sharing administration in December 2011, on Northern Ireland government business in London when she received the news that her father had died suddenly in Co Fermanagh.
He was waked in the family home in Lisnaskea, the house is across the road from the police station. They had moved there from their farm along the border for safety reasons after the IRA had tried to kill him.
Laid out in his coffin in the front room in Lisnaskea, the scar of the bullet wound was visible on his forehead.
An echo of the the Muldoon final line 'there was still the mark of an O when he got home.'
Nigel Dodds, like Arlene Foster and Paul Muldoon, indeed like all of us, carries with him the legacy and sometimes the burden of things from the past.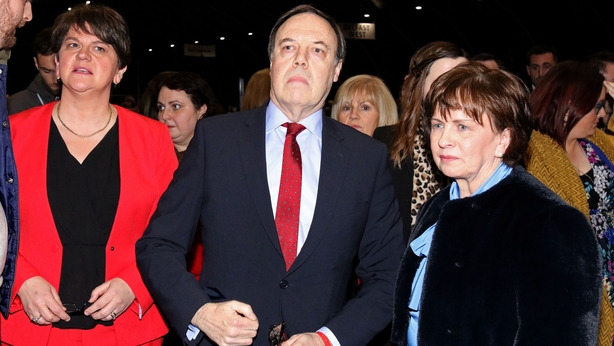 Educated in Beckett's alma mater, Portora in Enniskillen, he won a scholarship to Saint John's College in Cambridge, studied law and graduated with First Class Honours.The obviously bright legal mind got diverted into politics. Last month - a reality of the brutal politics trade - he endured the public humiliation of the loss of his North Belfast Westminster seat to Sinn Féin.
The 'O' on Nigel Dodds' forehead', a memory deep in his psyche, rarely if ever spoken about in public, was when the IRA shot and wounded an RUC officer when they came to try to kill Nigel Dodds as he visited his seriously-ill young son in Belfast's Royal Children's Hospital in 1996.
Nigel Dodds, then the DUP's deputy minister, wasn't sufficiently present when Arlene Foster desperately needed support in February 2018.
She, Edwin Poots and the very small handful who were willing to help her had cobbled together a deal with Sinn Féin to end what was then a 14-month breakdown in government.
When she needed active, vocal and influential backers, particularly from the DUP's then 10 members at Westminster, they were not around.
On Wednesday and Thursday of the past week, although he is no longer a Westminster MP, in his role as a DUP party officer, Nigel Dodds was unequivocal in his backing for Arlene Foster.
He was one of those who ensured that the absence of her support that scuppered her two years ago was not a factor when the chance came around again.
Yesterday there was a buzz reminiscent of the Paisley and McGuinness years about Parliament Buildings.
Staff who had endured the humiliation of seeing their place of work turned into a wedding venue available for hire had their smiles back.
The Great Hall was packed as Sinn Féin arrived in numbers to confirm it will participate in a new power-sharing administration.
The party president, Mary Lou McDonald, addressed the media scrum while Michelle O'Neill stood quietly beside her. From lunchtime today, after she is nominated as Northern Ireland's deputy first minister, Arlene Foster's partner and equal in government, all that will change.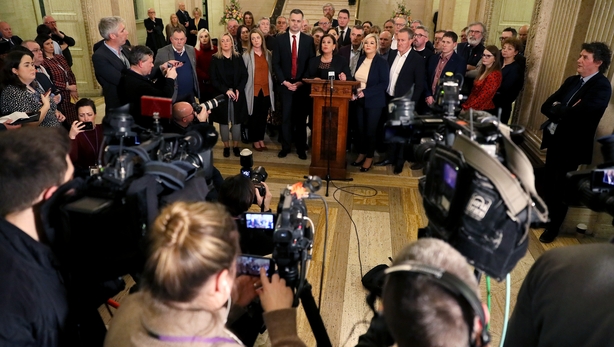 For Michelle O'Neill, her day has come.
Gerry Adams was on the other margins of the Sinn Féin group before the microphones.
Afterwards he slipped down the familiar corridors to where the DUP are now re-colonising the first minister suite of offices.
He congratulated Arlene Foster on recent developments.
He made a point of acknowledging to Nigel Dodds the emotions around the loss of his Westminster seat (to Sinn Féin). This afternoon, out of respect to the memory of his friend Martin McGuinness and the journey they travelled together, Gerry Adams will watch the formation of a new administration from Stormont's public gallery.
One of the phoenix-like developments from the ashes and helplessness of the past three years is the re-birth of the SDLP.
Deprived of Westminster representation and the financial support that goes with it, the party was on its last legs.
It now has two young MP's and a leader in Stormont, Nichola Mallon, who has the potential and the energy to thrive. At his home in Market Hill, Seamus Mallon may be in ailing health but he has lived to see the possibility of a new start for the inclusive politics he has championed all his political life.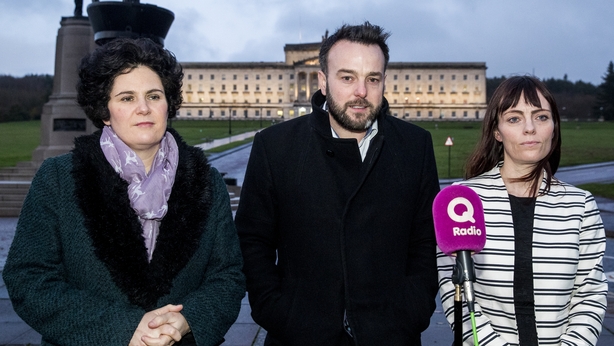 At different times in our recent history, partnerships were important. Sometimes there was a tension providing the necessary stimulant – Haughey-Thatcher: Reynolds-Spring: Bruton-Spring: Robinson-McGuinness. Sometimes there was a special bond of friendship – McGuinness-Adams: Blair-Ahern: Paisley-McGuinness (and possibly Varadkar-Johnson).
The partnership that came over the hill, miracle like, the decisive force in the return of power-sharing to Northern Ireland, is the Julian Smith/Simon Coveney relationship.They are kindred spirits.
They knew what was required. No protocols, no past practices, no objections or sensitivities were going to defer them. They were going to get the job done .In 19 Belfast-based reporting years, I have not seen a Northern Ireland Secretary/Minister for Foreign Affairs relationship like it.
There are three strands to the Good Friday Agreement, as Ben Lowry of the Belfast Newsletter frequently makes clear, and the first one, internal Northern Ireland affairs, is not the business of any political representative from south of the border. But the Smith/Coveney formula followed a fourth path. You concentrate on trying to deliver unionism, I will put my energies into persuading nationalism and we will both tick-tack with the middle ground.
They are kindred spirits. Coveney, like his father before him, has the 'everything is possible' calmness of what is not Pure Mule but Pure Cork. Smith, equally comfortable in his skin and equally devoid of pretensions, is the very same. 'There is a problem, let's get it sorted'.
Those who wrongly see Simon Coveney as an 'expansionist Irish foreign minister', sticking his nose in where it is not wanted, miss the crucial point. Simon Coveney's one-line analysis of Northern Ireland's situation since he became Tánaiste was it amounted to an unacceptable failure of politics and had to be sorted. In Julian Smith he found a political soul-mate with the same mix of impatience and determination.
The Minister for Foreign Affairs absconded from a family holiday during the week to return to the Stormont coalface. In the same way Julian Smith remained in Northern Ireland and stayed away from his Yorkshire constituency for most of the Westminster election campaign.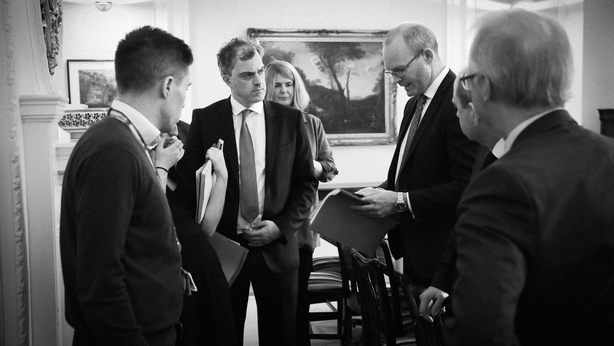 It is worth mentioning that even though they both contested the Fine Gael leadership that Leo Varadkar won, in the crucial negotiating stages and in the glory moments in Stormont immediately afterwards, the Taoiseach left the space to his Tánaiste, trusted him and did not interfere.
Today is a special day, up there with Good Friday 1998 when the magic happened. It has parallels with May 2007 when Ian Paisley and Martin McGuinness walked down the marble steps into the crowded Great Hall, flanked by Bertie Ahern and Tony Blair. It marks a new beginning – it is special and a relief after three years of politics bogged down in a swamp.
It will involve an administration led by two women.
A very novel factor is the Northern Ireland Secretary/Tánaiste bond – something that could be very useful as Brexit inevitably presents completely new challenges to British/Irish relationships.
Those who are scarred by experience may well say this is the high point, Northern Ireland's new administration may well struggle with its challenges and responsibilities.But not even the cynics can dispute that the high point has been reached.
We are sightseers today. And Northern Ireland looks a lot better than last week.