A critically endangered breed of Irish cow has received a much-needed boost having just been granted the status of Native Rare Irish Breed.
The Droimeann cow, recognised by a distinctive white streak along her backbone and a white diamond between her hind legs, was once found throughout Ireland but is now only found in a handful of isolated pockets.
The United Nations' Farm and Agriculture Organisation has categorised the Droimeann breed as being at risk with the current population at a critically low level.
At present only 243 breeding females and 23 males exist.
In making the announcement today, Minister for Agriculture Michael Creed said that the granting of rare breed status to the Droimeann represented a significant boost for the breed, offering both recognition and incentives to farmers in their efforts to preserve the Droimeann.
"This announcement opens the door for farmers to access additional financial assistance through various agri-environmental schemes administered by the department. But, more importantly perhaps, it also recognises the dedication and commitment of a handful of farmers to a distinctive breed of Irish cow," said Mr Creed.
"Droimeann breeders have shown themselves to be very diligent in their role as custodians of this breed over many years. While numbers of these animals are very low, and can be considered 'at risk', I am confident that the dedication of the Droimeann Cattle Society will allow numbers to increase in the coming years," he added.
References to the Droimeann can be found back through the centuries, where she appears prominently in early Irish literature, song, and folklore.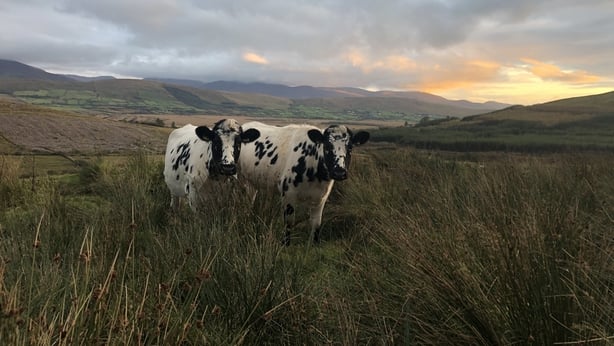 Following extensive DNA profiling by Weatherbys, using the latest genotyping technology, the breed has been shown to be unique, based on the genetic distance from other breeds. The granting of the rare breed status follows considerable work by the Droimeann Cattle Society in implementing a comprehensive breeding programme.
Co Kerry Droimeann breeder, Shane Daly, says the recognition of rare breed status will make a tremendous difference to the future of the Droimeann.
"The Droimeann is a mighty little cow, built to survive in the rough terrain we have here in the Iveragh mountains. This acknowledgement will be of huge help to us.
We need your consent to load this rte-player contentWe use rte-player to manage extra content that can set cookies on your device and collect data about your activity. Please review their details and accept them to load the content.Manage Preferences

"My grandfather had the Droimeann long ago and I suppose that's where my grá for them comes from. I'm just happy to keep the breed going here in Iveragh for as long as I can."
The Droimeann now joins the Kerry, the Dexter and the Irish Maol on the list of cows which have been granted Native Rare Irish Breed status.
The last time the Department of Agriculture, Food and the Marine approved a breed as being native and rare was the Kerry Bog Pony 15 years ago.