A group of farmers protesting against low beef prices have lifted a blockade in Dublin city centre, which began yesterday and caused widespread traffic disruption.
The action had led to the closure of several streets around St Stephen's Green, but the affected roads have now re-opened as the convoy of tractors leaves the city.
The farmers, who say the Government needs to do more for rural Ireland, met Minister for Agriculture Michael Creed earlier to discuss their concerns.
Five delegates handed a letter to Mr Creed in the lobby of the Department of Agriculture this morning outlining a number of issues.
They said no commitments were made by the minister, but they want the Beef Taskforce to be reconvened to discuss the issues of beef prices and the lifting of injunctions against two farmers.
And they're off! Protesting farmers pull out of Dublin with road closures likely to end soon @rtenews pic.twitter.com/0bmVQsLnvS

— Fran McNulty (@franmcnulty) November 27, 2019
The delegation said that if no progress was made by 15 December, farmers would be back on the streets of Dublin.
Some of the farmers involved in the protest had said they would not leave until the price of beef was addressed and the injunctions lifted.
Mr Creed spent around ten minutes meeting farmers and told them he was "fighting for your cause", however, he was repeatedly told "the wheels of justice move slowly, but they're not moving".
We need your consent to load this rte-player contentWe use rte-player to manage extra content that can set cookies on your device and collect data about your activity. Please review their details and accept them to load the content.Manage Preferences
---
Read more:
Taoiseach: Government cannot do anything about beef prices
---
Other protesters shouted that the farmers the minister was talking to did not represent them.
The minister was shouted at during the meeting when he discussed injunctions taken out against farmers during the recent beef protests.
Mr Creed said he would like to see the injunctions lifted and did not want to see a situation where injunctions were hanging over anyone's head.
Protesters had repeatedly said they were going nowhere.
"We'll sit here for many more nights if we have to but this has got to stop and we have to start getting paid for our produce," said Nicholas Hughes, a 53-year-old dairy farmer from Moylough in Co Galway who sat in his tractor all night without sleep.
"It's the only thing we can do, we're gone if we don't do this.
"We can't stay producing food below the cost of production and we can't keep getting blamed for climate change. This is about the death of rural Ireland. It's dying on its feet as we speak."
The protesters also called on Mr Creed to clarify and apologise for comments made in the Dáil yesterday in which the minister said senior managers in a meat company had death threats made against them.
They also renewed their call for the lifting of an injunction, obtained by C&D Foods against two Co Longford farmers, who had taken part in demonstrations at the plant during the beef protests.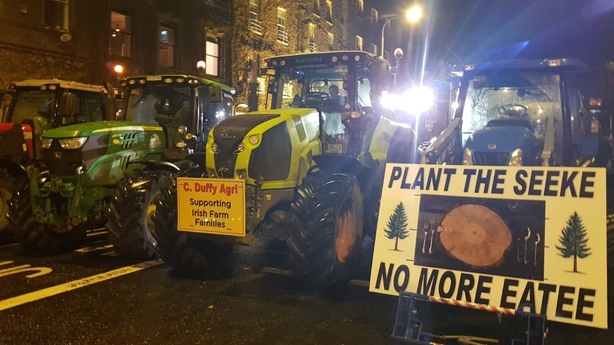 The action had led to the closure of numerous streets in the city and had a major impact on commuters as cars and buses were diverted from their usual routes.
The established farm organisations were not involved in the protest and those taking part said it was a people movement.
The Garda Commissioner Drew Harris said he was satisfied with the policing of the protest over the past two days.
He said individuals have a right to protest and that can involve disruption.
Speaking at a meeting of the Policing Authority, he said the matter was managed well in relation to traffic flow and allowing people to move around the city and he said it was constantly being reassessed.
The President of the Irish Creamery Milk Suppliers Association has said while the association was not involved in the protest, he can "fully understand and comprehend the frustration that is out there".
Speaking on RTÉ's News at One, Pat McCormack said farmers feel aggrieved, and that over the last two weeks in particular, there has been a lot of "media bashing" of farming families.
Last night, two tractors and a group of around 30 protesters blocked Oireachtas members and staff from leaving Leinster House for several hours.