Taoiseach Leo Varadkar was in Wexford town today to canvas with his party's by-election candidate Verona Murphy, but while he was all chat with the public, when it came to the media he was more reticent.
A section of Main Street in Wexford was the venue for the less-than-one-hour gig as Mr Varadkar aimed to give his personal endorsement to Ms Murphy, who has been at the centre of controversy over the past week.
Accompanying the Taoiseach and the candidate were local Ministers of State Paul Kehoe and Michael D'Arcy, former TD Liam Twomey, former minister and still party grandee Avril Doyle, as well as an assortment of staff from party headquarters.
It was made clear to the media beforehand that Mr Varadkar would not be doing any media briefings, press conferences or throwing any sort of sardines the way of the press seagulls, but there was still a presence of reporters and cameramen as he made his way through the centre of the town.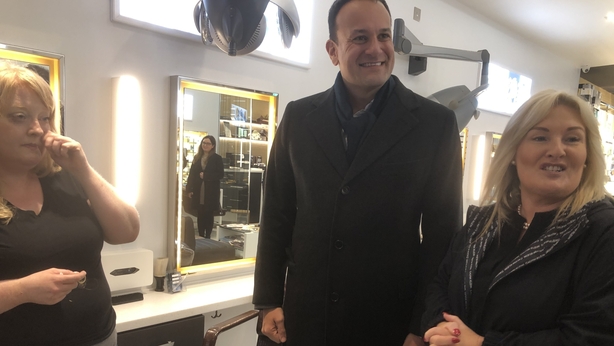 That was despite some of the local politicians keeping their lips zipped when asked when and where it would all be happening.
Both the boss and the candidate marched from shop to shop as if the media members were not there, chatting to workers and customers and asking them to "look after" the political debutante when it comes to Friday's by-election.
Pharmacies, bookshops, recruitment firms, hairdressers, even the credit union and post office: none was spared when it came to engaging with this whirlwind.
It was unusual when it comes to a canvas in a county town four days before a by-election, that publicity opportunities would be shunned, but it's been an unusual campaign for Fine Gael in Wexford.
They largely received a positive reception, with smiles and banter a-plenty between the public and the politicians, although one man in The Book Centre, when asked if he would like to be introduced to the visitors, confided that he would not be seen in such company.
When it was all done and the two guests of honour were preparing to depart, a couple of reporters attempted to ask the Taoiseach a question, but he was in his car before the words were fully out of the mouths, and he was gone.
Other candidates in the Wexford by-election are Cinnamon Blackmore (People Before Profit), Malcolm Byrne (Fianna Fáil), Jim Codd (Aontú), Karin Dubsky (Green Party), Charlie Keddy (Ind), George Lawlor (Labour), Johnny Mythen (Sinn Féin) and Melissa O'Neill (Irish Freedom Party).