The men found in a container on board a Cherbourg to Rosslare ferry this morning are all said to be in good health and are being assessed by immigration officials.
It is understood that the 16 males, most of whom are believed to be aged between 20 and 40, but one of whom may be a juvenile, are from the Middle East.
They arrived in Rosslare just after 2.30pm on the Stena Line ferry which left Cherbourg at 9pm last night and spent a number of hours being medically assessed.
Most, if not all, of them are expected to claim asylum in Ireland and were processed under immigration legislation by gardaí and members of the National Immigration Bureau.
It is understood they have been transferred under escort to a centre, thought to be in Dublin, run by the Reception and Integration Agency.
The men were found in a container on the ferry at about 9.20am when an employee carrying out a routine inspection of the vessel's car deck heard noise from within the container.
It is believed the males were in the container for 10 to 12 hours.
Within minutes they had been freed from the container and were taken by staff to a private passenger lounge where they were given food, drinks and blankets and made comfortable while the journey continued to Rosslare.
Gardaí are keeping an open mind on how they got on board the ferry and say that it may not be a case of human trafficking.
The driver and owners of the vehicle involved, all of whom are Irish, are assisting the investigation.
Superintendent James Doyle of Wexford Garda Station told a news conference that the men had been through a "traumatic" experience but were found to be in good health and good spirits.
He said the lorry involved is owned by a local Irish-based company.
He added that the company and the driver - a man in his 50s - are assisting the gardaí with their inquiries.
The driver has lived in Ireland for over 25 years and is said to be an experienced haulier.
The articulated lorry has been removed from the scene and taken to a secure location for further examination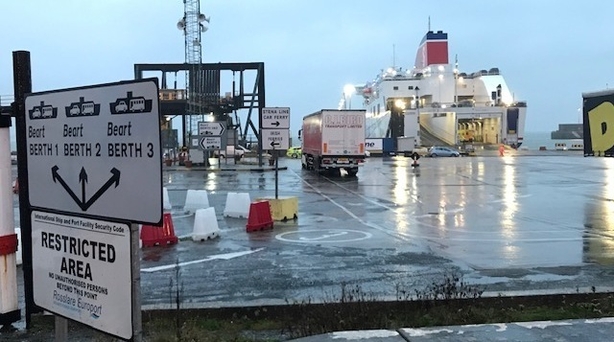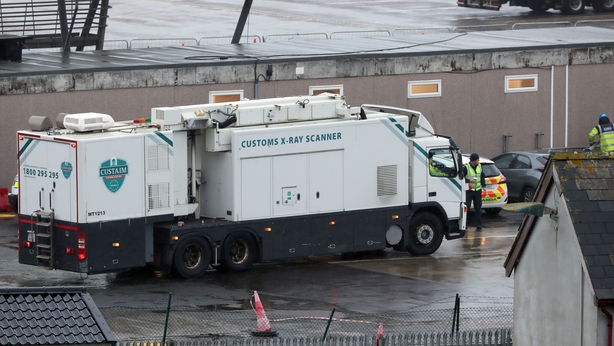 Earlier, Taoiseach Leo Varadkar said the Government's initial response would be a humanitarian one, but that gardaí would need to be involved.
Speaking in Zagreb after meeting the Croatian prime minister, Mr Varadkar said it would take time to assess the needs of the group.
"Of course our initial response will be a humanitarian one, to make sure those people are well and that their health is good.
"After that of course there will need to be a response that involves the gardaí, because as you know human trafficking is illegal, and we'll need to see what happens with the people who come ashore.
"They may wish to claim asylum, which they're entitled to do, or they may wish to be returned to the safe country from which they came.
"We'll need to cross that bridge when we come to it, but the initial response will of course be a humanitarian one, to make sure they are alive and in good health."
Minister for Justice Charlie Flanagan said that he "was extremely concerned" to learn of the incident.
In a statement, he appealed "to anyone with any information on these nefarious activities" to contact gardaí.
In a statement, Stena Line said it would assist the authorities "in any way we can with the ongoing investigation".
Anyone with information has been asked to contact Wexford Garda Station on 053-9165200, the Crimestoppers line on 1800 250 025 or any garda station.
Additional reporting Tony Connelly